---
The Inn at Walnut Bottom
Cumberland, Maryland, USA
---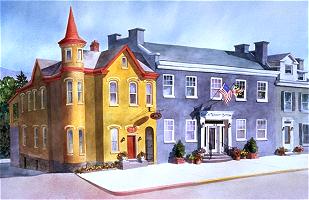 ---
Visit our Web Site
---
Region: Western Maryland or The Mountain Side of Maryland

The Inn at Walnut Bottom is an attractive pair of 19th. Century residences that have been joined together. It is an easy walk from all Cumberland's attractions. Guests are offered charming bed and breakfast accommodations in either the 1820 Cowden House or the 1890 Dent House.

The Cowden house is a good example of a Georgian style of architecture with its rigidly symmetrical sashed windows, chimneys at either end, and formal doorway. The Dent House is an example of the Queen Anne style of architecture, with a particularly fine round turret on the corner section.

The Dent House is so named since it is located on the site of the 1786 home built by George Dent, surveyor of Cumberland. Fredrick Dent was born in this house in 1796 and later distinguished himself as father to Julia Dent, who married General Ulysses S. Grant. General Grant later became president of the United States, and Mr. Dent died in the White House while visiting his daughter.

With its twelve beautiful rooms and family suites, it is perfect for corporate retreats, small family reunions and bike groups. Come visit this Mobile three star Inn where "The friendly staff goes out of their way to make your feel at home." (Sheila Kinkade in "Maryland Delaware Travel Smart"). Cumberland, located in the heart of the Alleghenies, was once known as the "Gateway to the West". Today, this quaint town holds a wealth of our nation's history and is recognized as the state of Maryland's' first Heritage Area as well as being one of the first main street Maryland communities.

Park your car in the bed and breakfast's parking lot and take a break from the hectic pace of every day life. Stroll through the tree-lined and visually impressive historic district with its nineteenth-century homes. Make a stop at History House, which now houses a museum filled with antiques, hand-blown glass, and toys. The Emmanuel Episcopal church is located on the site of the former Fort Cumberland, and by prior arrangement you may tour the trenches that run beneath the church. The curch itself is a fine example of early Gothic Revival and has three beautiful Tiffany stained glass windows.

Cumberland is also the biggest town in we tern Maryland and marks the end of the 184.5 mile-long C&O Canal that starts in Georgetown. Bring your own bikes, and your hosts will be happy to store them overnight in their garage, or let you borrow one of theirs for a relaxing ride along the towpath. Superb hiking, canoeing, whitewater rafting, and cross-country skiing can be found not far from the Inn at Walnut Bottom. Green Ridge State Forest offers some of the best mountain biking in Maryland, but if you like a less rugged route, travel along the C&O Canal.

If you are looking for something a little more relaxing, you might want to take a three-hour train ride on a 1916 Balwin Steam Engine through the glorious mountains of western Maryland. Several sights can be found just a short drive from the Inn, including Frank Lloyd Wright's Fallingwater.

Visit this charming, historic town nestled in the gorgeous Allegheny Mountains and only 2 ½ hours from Washington D.C., Baltimore, and Pittsburgh. Innkeepers Grant Irvin and Kirsten Hansen and their children Hans and Marion look forward to welcoming you to Cumberland and to the Inn at Walnut Bottom. Come find out why U.S. Senator Barbara Mikulski praises Grant and Kirsten, stating that "(they) help make Maryland great."
---
The Inn at Walnut Bottom
120 Greene St - Cumberland MD 21502
Phone: (800) 286-9718, (301) 777-0003 / FAX: (301) 777-8288
E-Mail: iwb@iwbinfo.com

This and other Cumberland Bed and Breakfast Inns can be found here in The Register.
Romantic Country Inns, Getaways and B&Bs offer a great lodging alternative to big hotels.
A warm comfortable bed and a tasty breakfast can make for a great vacation or business travel day!
---




© Copyright 2003 ASSIST Information Services - All Rights Reserved