Click here for www.PriceLine.com
---
You're Reading TravelASSIST MAGAZINE

---
The YES/NO TravelASSIST Photo Contest
---
By asking questions that are answered with a YES or NO, can you guess where this photo was taken? - YES

Will you win an all expenses paid trip around the WORLD? - NO

Can you win a Quickpoint Visual Translator? - YES

Rules - The first six persons to submit the solution win. One question per person per day. If you submit a solution, and are incorrect, you are unable to guess again until this photo is solved and a new image is posted. TravelASSIST Magazine reserves the right to edit questions. The YES/NO answers to submitted questions will be posted here on a regular basis.

E-Mail your question or solution to TravelASSIST.
---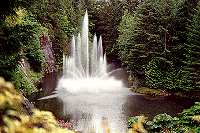 Where was this photo taken?
---
---
Just ask away... I'll get it started.

- Was this photo taken in Germany? - NO
* We have had our first correct guess!! - From B.G.
- Was this photo taken in Europe? - J.A.C.- NO
- Was the picture taken in Canada? - M.P. - YES
- Are those evergreens in the background? - M.P. - YES
- Was this photo taken in Hawaii? - Bill - NO

- Thanks - We have our winners.

SOLUTION:

Buchart Gardens, Victoria, British Columbia
---
This Months Winners - Read Their Comments Below:

---
R. Lafontain - I last visited Buchart Gardens over twenty years ago. My wife, young daughter (she was 6 at the time) and my wife's parents did a cross-Canada driving trip from Toronto.

In order to keep our daughter amused and looking, her grandfather had made an agreement that he would give her a quarter for each buffalo, or mountain sheep which she saw. It was a pretty safe bet for mountain sheep/goats are quite shy animals. We also did not go near any buffalo herds.

The memory of the gardens brings a chuckle for I remember my daughter saying to me as we were enjoying the gardens, "Dad, do you think there might be any sheep or goats here?!"

She did have the last laugh on her grandfather though - for although it was not a live one, she did spot a buffalo head in the Manitoba legislature. Her grandfather paid on the spot!
---
Jack Hoppen - I visited Butchart Gardens when I went to Vancouver for the Expo a number of years ago. It is one of the most beautiful botanical gardens I have ever been to. I would certainly recommend that anyone taking a trip to this area include it in their itinerary.
---
Robert Gorrill - Last Spring my wife and I decided to take the journey across Canada on The Canadian from Toronto to Vancouver. It was something that we had always talked about and this time we put our words into action. Our departure was on Saturday, July 30, in Toronto having travelled there overnight from Boston via Greyhound (never again!). We were unable to get any bedroom accommodation and got the last section that was available. We were one car back from the diner and the 3rd car before the bullet observation lounge.

The trip was a fantastic experience and one which we would not mind repeating. The food was excellent onboard in both the diner and in the cafe/lounge car. The onboard staff were excellent and very attentive to the needs of those who were on the train. Our arrival in Vancouver, on Tuesday, August 2 was actually ahead of schedule even though we were 3 hours late leaving Jasper the evening before. My comment on this is that our sleeping experience that night could be likened to that of somebody riding the luge in the Olympics.

The one bad taste in the journey is that sometime between our arrival in Jasper and our arrival in Vancouver is that somebody made off with my laptop computer. The one good thing is that they did not touch my cameras so at least we have a visual record of the trip but not the verbal one that I had hoped to use to generate an article.

We B&B'd in Vancouver at the Rose Cottage for a couple of days and then went over on the bus/ferry to Victoria where we also B&B'd just a 10 minute walk from downtown. This was a great time for us and the weather was perfect. One of the primary points of interest that my wife insisted that we see was Butchart Gardens. We both took photographs (hers was much better than mine of the dancing water fountain) and I was very pleased to see that image on my 'puter monitor when I was able to identify the site.

After Victoria we again went by bus/ferry to Seattle, spent one and a half days there, then took Amtrak's The Pioneer to Denver, CO. We rented a car and went down to Manitou Springs for a couple of days. Went back to Denver and took the California Zephyr to Chicago and then the Lake Shore Limited home to Boston. All this was done in 15 days.



---
Copyright ASSIST Information Services