Click here for www.PriceLine.com
---
You're Reading TravelASSIST MAGAZINE

---
THE READERS WRITE
We encourage our readers to write us here at TravelASSIST.
---
Chicago's Lincoln Park
Text and Photos by Carolyn Daily O'Connor

A million feathered visitors spend the winter in northern Illinois. Several hundred find their annual accommodation on two small islands in the south pond of Chicago's Lincoln Park.

If their heads are black and they have long necks they are Canadian geese. If their heads are iridescent green and they have short necks they are mallard ducks -- male. The females are a mottled brown.

Chicago was a fowl place long before there was a city along the east shore of Lake Michigan at the southern tip -- indeed before it was Lake Michigan. It is referred to as Long Lake in the 1783 Treaty of Paris that ended the American Revolution.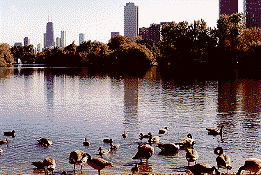 The site of the future city was a swamp. The terrain and the winter weather was a great place for ducks.

So if you pay a visit to Lincoln Park Zoo on a trip to Chicago, go out the south gate. Pause on the bridge overlooking the south pond. There is a great view of the Chicago skyline with reflections in the pond particularly good for photographs in the late afternoon on days when the sun shines.

The best spot for duck watching is the southern rim of this pond. I've been there twice in the past week -- taking one of my best photos of all time on a Monday afternoon when the reflections of fall foliage on the two islands were especially vivid. A couple feeding the ducks were at the southeast corner of the pond -- which kept the ducks swimming past my lens. The V-shaped indentations in the shallow water left by the duck tails cut across the ripples.

I introduced my mate to the ducks this past Sunday afternoon. A young woman on roller blades wearing black tights had dozens of ducks scrambling for position as she dispensed tidbits of bread. I'm not sure if my mate was watching her or the ducks.

Most of the ducks were mallards. There were quite a few white ducks, too, and one of these white ducks ignored the bread for some tastier fare at the bottom of the pond. He kept ducking under to feed -- resembling a child's floating toy in a bathtub.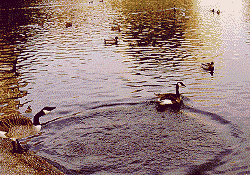 The Canadian geese standing on some logs near the islands watched all of this but by the time they decided to join in on the feast, most of the bread was gone.

Lots of people -- from toddlers to senior citizens -- paused at the pond to look at the ducks and geese. And the fowl visitors who have selected that spot must also enjoy people watching.

A little more than a century ago the ducks and geese who chose to winter at the pond were likely to encounter duck hunters. Then Potter Palmer who was making a fortune from the Palmer House decided to build a castle for his bride a half mile north of the water tower. Barges dumped sand along the lake shore, part of the swamp was drained and the duck hunters were sent packing.

The ducks stayed; so did the geese.

Dale

Check out this postcard site on the Web: Tale of Two Cities Chicago & Paris -- via postcards of past 102 years

---
Text and Photos Copyright 1995 Carolyn Daily O'Connor
---


Copyright ASSIST Information Services