Click here for www.PriceLine.com
---
You're Reading TravelASSIST MAGAZINE

---
Alaska Life Style
By Richard Carroll / Photography: Donna Carroll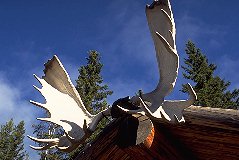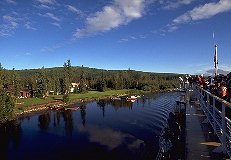 FAIRBANKS, Alaska -- A hundred years ago, "go West young man" meant a fresh start in life. Change your name, forget about your debts, leave no forwarding address and head for the wilderness with a grub stake, a warm coat and a new pair of boots.
Today, the call of the wild has been replaced by "go North," meaning leave the lower 48 and pursue your destiny in the vast splendor of Alaska. Alaskans will tell you that on average, newcomers stick it out for two years before packing up and heading south. They say the weak get weaker and the strong-willed become even stronger. If the weather doesn't get to you, the moose will.
From a population of 200,000 at statehood in 1959, Alaska now has more than 600,000 hardy souls. Anchorage, with a whopping 257,000 residents, is home to 40 percent of the state's population, while Fairbanks, tucked away in the interior, 358 miles north of Anchorage, is topping out at 33,000.
Fairbanks, with the crusty soul of an old backwoods gold miner and just as hardy, sets a mood of adventure and discovery, splashed with a robust sense of humor. A resident quipped, "We don't have a town character, we all take turns.
We stop for hitchhikers, exchange gossip, and during the long dark winters when there is only four hours of light, our stories slowly evolve to shady tales."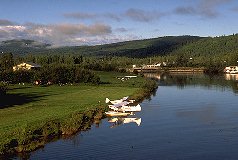 The city, staunchly evoking the feel of a town, is the dog mushing capital of the world and home to fearless bush pilots who explain, "You have to go around everything in Alaska instead of through it. Roads are in short supply. From Fairbanks you can fly 5,000 miles to St. Petersburg, Russia and never see one."
The dress of the day is a wool shirt, rubber boots and good old Levi's, not fancy blue jeans with names engraved on the rear pockets.
The slick little sports car is swapped for a solid four- wheel drive vehicle that sits high off the ground and is ready for anything.
The town, with its endearing frontier ambience, is where everyone knows your business including the moose who love to chomp on yard flowers and anything else that has been cultivated.
Moose or not, life in this part of North America is dominated by the weather and endless "weather talk." Hoping for the best, the weather report is the first thing Fairbanksans read in the paper each day.
Ladies say, "When a 70-mph wind is blowing across town, it's just another bad hair day for us."
It "warms up" to 15 degrees below zero and when the temperature hits 20 above zero many of the students at the University of Alaska stroll to class gleefully wearing a tank top.
Fifty degrees above zero can be wonderfully balmy.
During the short, intense summer that runs from mid-May to early September, Fairbanks is a glorious setting for biking, kayaking, river rafting, gold panning, catch-and-release fishing, hiking in the Chena River Recreation Area and memorable wilderness excursions.
The mighty Alaska Range is seen to the south while the Brooks Range looms in the north where you can drive above the Arctic Circle for a camp out, or take a tour that includes the Arctic Circle.
The temperature soars upward and the city is bathed in continuous functional daylight from May 17th through July 26th.
The celebration begins with a Folk Festival, June 7-9. The Midnight Sun Festival on the longest day of the year, June 21st, features a semi-pro baseball game starting at 10:30 p.m. without artificial lights, and a round of golf at midnight.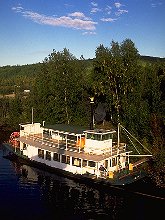 Visitors also hop on the splendid DISCOVERY, Alaska's only operating sternwheeler, and chug along the Chena and Tanana Rivers listening to the fascinating narration.
Piping hot coffee is 25 cents downstream, and free upstream with a donut thrown in for good measure. Daily sailings at 8:45 a.m. and 2 p.m.
The boat, owned by the Binkley family who have been sailing on the river for 100 years, stops alongside Susan Butcher's kennels for a little chat.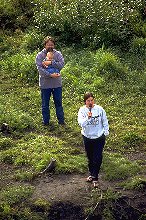 Butcher, a famous Iditarod sled dog musher, talks about her dogs and mushing experiences from the bank of the river. On her 80 acres are 94 high-spirited sled dogs, three cats, a husband and a new baby.
Engulfed in a vast landscape of sandbars, trees and mountains you expect to see a dinosaur lopping past the boat, but do see bush pilots buzzing about, large beaver lodges, sod-roofed homes with mile-long driveways, fish wheels to catch salmon, bird life, and a shore excursion to a Athabascan Indian Village site.
In the soft light of evening visitors drop by the Ester Gold Camp 5 miles west of Fairbanks, named on the National Register of Historic Places, for a plate of Alaska Dungeness crab, followed by a humorous Gold Rush Days stage show at the Malemute Saloon and a talk with the mayor who often tends bar.
Other fine dining is found at the Fairbanks Princess Hotel and Pike's Landing overlooking the Chena River, noted for their fresh char-grilled Alaskan King salmon.
The "fresh frozen" salmon available in the lower 48 will forever taste second rate after sampling the pride of Fairbanks.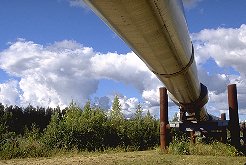 Allow time for the natural and cultural history of the state at the University of Alaska Museum, one of the top 10 visitor attractions in the state, and the Alyeska Pipeline Visitor Center on the Steese Highway.
Train buffs can hop on the scenic Alaska Railroad, the northern most railroad in North America, 120 miles south from Fairbanks to Denali National Park and soak in endless mountain ranges, canyons and vistas. You won't be disappointed.
WHEN YOU GO
Call the Fairbanks Convention & Visitors Bureau at (800) 327-5774 for a free copy of the their Visitors Guide. Princess Tours, who has been hosting land travel in Alaska for 17 seasons, offers wide-ranging land tours to Fairbanks, Anchorage and the interior. See your travel agent. For travel packages contact Alaska Airlines at (800) 426-0333.
---


Copyright ASSIST Information Services