-->

Click here for www.PriceLine.com
---
You're Reading TravelASSIST MAGAZINE

---
Riding Princess' Midnight Sun Express
Photo Essay - Donna Carroll
Framed in the wrap-a-round window of Princess Tour's, ULTRA DOME luxury railcars, is a grand vista of wild Alaska and a powerful landscape that can knock you down to size.
Mountain ranges blend together in a misty montage of trees, deep canyons and swampy meadows. Great steel suspension bridges lead the way, as do tunnels and lazy curves where you can see towering Mt. McKinley, Denali Park and an occasional bear wading down a river swept along by the icy current.
The 356-mile journey between Anchorage, Denali National Park and Fairbanks is a chance to experience a private railcar complete with an open-air viewing area, its own kitchen and chefs, and a bartender at the ready. Specialties are Alaskan rock shrimp pasta, smokehouse chicken and smoked salmon caesar salad.
The coaches, featuring full-domed glass ceilings, have the largest window panes ever built for a rail car. At 85-feet in length, 10-feet in width and as high as a two-story building, they ride smoothly on narrow gauge track, but are too large for most rail routes in the Lower 48.
For information or reservations on any of Princess' 1996 Alaska Land Tours contact a professional travel agent.
---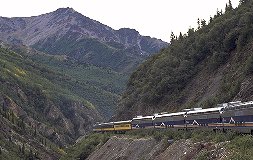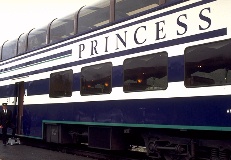 Train buffs can hop on the scenic Alaska Railroad, the northern most railroad in North America, 120 miles south from Fairbanks to Denali National Park and soak in endless mountain ranges, canyons and vistas.
---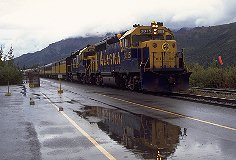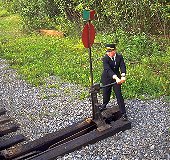 There is no automatic switching on the Alaskan Railroad. The brakeman has to get off the train and throw the switch by hand when passing another train.
---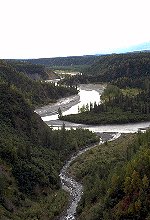 The views from the train are among the best in all North America.
---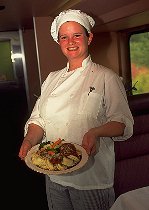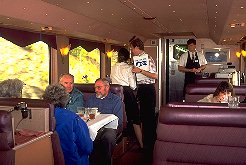 The chefs prepare original and creative cuisine on the ULTRA DOME.
---
ALL PHOTOS © COPYRIGHT DONNA CARROLL
---


Copyright ASSIST Information Services