Click here for www.PriceLine.com
---
You're Reading TravelASSIST MAGAZINE

---

Cancun's Presidential Retreat Welcomes You!
Ever wonder what it's like to stay in one of those "Presidential Retreats" you're always hearing about on the news? For a mere $1,450 a night in The Presidential Retreat at the Royal Sands, the mystery can be over.

During the early days of Cancun, only a few private beach houses existed offering supreme seclusion to the heads of Government and Captains of Industry. Following the marketing campaign and explosive building boom of modern Cancun, seclusion on the beautiful island, for the most part disappeared, replaced by the fun and excitement of the giant resort hotels. But the Presidential Retreat, (formerly the Casa Maya) was preserved and renamed the Presidential Retreat at the Royal Sands.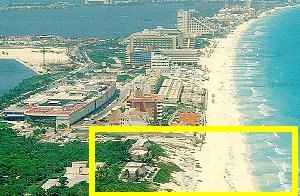 Here you can still turn your back on all but the sand and sea with 900 feet of private beachfront to soothe you with the sounds of breaking waves and cries of seagulls.

On the hillside overlooking this pristine expanse, sits the three gracefully thatched main buildings of the retreat. There are two guest houses and a central "club house" which is a communal building and comprises the main lounge, (also used as a meeting room and is equipped with a projector, satellite TV and bar), a dining area and the villa's main kitchens. The lounge and dining areas command a stupendous view of the Caribbean.

The fresh water swimming pool pictured above overlooks the Caribbean.

A professional tennis court is tastefully hidden in a jungle-like setting.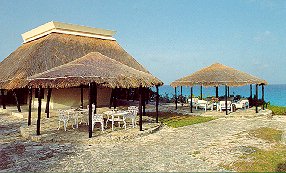 The guest houses are two and four bedroom villas plus a kitchenette, family game room, lounge and dining room. They are equipped with phones, air conditioning and safety deposit boxes. Daily maid service is included as well as 24 hour guards and a house-man to make sure all your needs are attended to -- such as properly inflating the kids' beach toys. A cook and a bartender are also included in the rate, each for an eight hour shift. For everyone's entertainment there is access to magicians, clowns, live bands, and a fireworks display.

Each area has stunning views of the Caribbean and the lagoon, with access to the beach, terrace and gardens. Cruises, marina services and trips to sites of interest in this area can be booked through the corporate travel agency.

Relaxation is the order of the day in this very private part of the Mexican Caribbean. Indeed, listening to the surf and the seabirds, it's not hard to feel completely alone in Cancun and, and imagine the Presidential retreat when it was the only house on the island.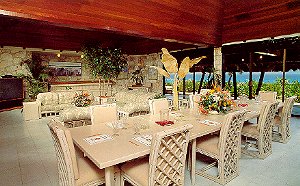 Sea Villas, a Houston based company, recommends the property for business or leisure travel and notes that you set the tone for your stay from festive to contemplative with no-one nearby to interfere.

To reserve your Presidential Retreat holiday, contact Sea Villas Inc: 7500 San Filipe Suite 600 - Houston Texas 77063 - For reservations: Phone (800) 905-4869 - (713) 784-2030 - Fax (713) 784-4835
---


Copyright ASSIST Information Services