Click here for www.PriceLine.com
---
You're Reading TravelASSIST MAGAZINE

---
The Building of
Casa de San Pedro
An Elegant B&B catering to Ecotourism in Arizona
By Larry Benedict
"The pavement ends. Ahead, the trees of the riparian area belie the ruggedness of the desert through which I am passing. I am surrounded by mountains, a pale purple cast on those in front of me. Even in the late afternoon, I notice the presence of birds. One more turn and I can see Casa de San Pedro. I stop before entering and roll down my window.

Above all it is quiet."

. . .Quoted from the Casa de San Pedro brochure
---

Five years ago, a group of friends got together to discuss an idea for a new type of Bed and Breakfast that would serve a unique form of tourism just then appearing on the horizon. They saw that a generation of environmental conservationists had grown up who were determined to "take only pictures and leave only footprints." These new travelers understood what a treasure this planet was, how fragile its ecosystem was and how close much of it had come to extinction.

The concept was to build a Bed and Breakfast that would reflect the beliefs of the ecotourist and treat those same tourists to gentle elegance, beautiful surroundings and healthful yet delicious fare. ("Pies," said Chuck Wetzel, co-innkeeper with his wife, Judy, "are my specialty and they will be the specialty of the inn").

At the time the Wetzels and their group of partners developed their idea, the "ecotourist" was not an economic force in the world of travel and the word itself had yet to be coined. Today, ecotourism is a well-know economic force and this very weekend, the first for Casa de San Pedro, Chuck and Judy Wetzel, are already saying the words, "Sorry, No Vacancy." For B&B's in the Sedona area click here.

As our conversation progressed, Chuck reminisced over the five years of dreams, struggles, frustrations, surprises, tragedies and ultimately, victory, resulting in the completion of one of the most beautiful Spanish Style B&B's anywhere, with 10 large bedrooms built around the traditional Spanish courtyard and over 8,000 square feet under one roof.

"Are you a bird-watcher?" Chuck asked me. I hesitated. "The people I'm referring to, he said, will call from Massachusetts to ask if a certain bird is currently in this area. If that is so, they will book immediate flights just to come out and see this one particular bird. When they've seen it they go back to Nantucket Massachusetts. In the meantime they have no wish to scrimp on accommodations or transportation and require the type of service they are used to receiving. Those, among others, are the sort of people who are into bird-watching these days.
"Sometimes they arrive as part of a group, other times they arrive with their family. However they come their visit is motivated by the opportunity to observe a rare species whose numbers perhaps may have been decimated over the century. These tourists have a broad range of other interests and often bicycle, hike, mountain climb and participate in diverse ecologically considerate sports while in the area.
"Our business concept was that these tourists would welcome the opportunity to be accommodated in personal, yet elegant surroundings. Unfortunately we discovered that many potential investors were skeptical. Our plan to build the Casa so far out in the countryside caused uncertainty. Would enough people want to stay in a B&B so far away from the rest of civilization, and all the urban comforts, that the property could survive? Our belief was that the isolation was exactly what people would pay for. The silence out here is palpable. We still marvel at the quiet of this place. That is what our guests will come for.
"There were other problems trying to raise money for the project, of course. We had spent our lives in the banking industry in Hawaii, but our innkeeping strengths were questioned. Judy and I were going to be running the place on a daily basis so to gain the necessary experience we went to work for the Ramsey Canyon Inn. Our highly creative interior decorator Charlene operates this inn and we soon had a solid hands-on grounding in the operation of an inn. We ere soon familiar with everything from plumbing problems to working out the daily schedule. That helped set aside some of the fears about our abilities.
"Still, few investors wanted to take the chance. At one point, after we had all our business plans competed and the stacks of paperwork in place we found ourselves at a dead-end and we were advised to approach the SBA (Small Business Administration). There, we discovered all the forms they required were different from what we had prepared and we would have to re-do all the months of paperwork.
"It was at this moment we were rescued by a local friend who said, 'You can't waste your time with this. You need to get your place built!' With that he offered us a single investment of $650,000 and that's what got us on our way. The rest of the limited partners were in for much smaller amounts and there are about twenty of us altogether.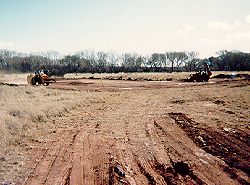 "Did building go as planned? Let me tell you. Things occurred you could never imagine. We discovered that since we were building above the San Pedro River we had to put in a 10" thick floating foundation before we could get approved. This was required by law to make sure the building was secure if ground shifting ever took place due to a change in the water table. This stipulation necessitated arranging for 36 truckloads of concrete to create the foundation in a single pour. We made the arrangements. The pour lasted twelve solid hours with everyone holding their breath. At the end, they had to set up lights to complete the job in the dark. This is a very rural area. Nobody around here is used to building projects on this scale.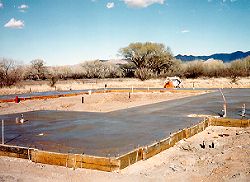 "A tragedy struck when our contractor passed away during the project. He was a personal friend and that alone was devastating but beyond that, we discovered that he was the only one with a contractor's license and the project had to stop while another person actually went to contractors' school to obtain a license so we could continue.
"Another low point came when one government agent we had been dealing with left his position and someone else took over. It turned out there had been some sort of incompetence and we were now told that we had to install an evapoative field instead of a septic tank. This raised our costs by a full $32,000, completely unexpectedly, an additional expense we could not afford! Nevertheless we got by, and with all the delays we ended up about six months behind schedule. Our plan had been to open in May and this is now Thanksgiving.
"Were there special moments of joy? Without a doubt. When all of us stood around with shovels at the initial ground-breaking, after 3 1/2 years of trying to get the project started, there were tears of joy as we all stuck our shovels in the ground to begin the actual construction. -- And those shovels were not gold-plated I can assure you!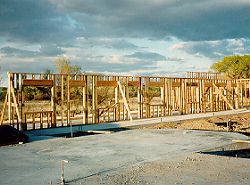 "Another great moment happened when the structure was framed-up and you could finally see where everything would actually be; what the rooms would look like. That was very exciting. We stepped from "room" to "room" imagining what it would be like when all the walls were filled in.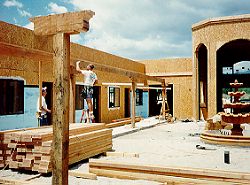 "As far as our personal relationships were concerned they held up surprisingly well. I must say; learning to put up wallpaper with your wife, particularly in the small room we happened to be working in, would have uncovered any weaknesses in the relationship but we did fine. With the others, there is always a little confusion between the way the banking elements think, and the way creative elements think, but that's to be expected and we've all ended up much closer for the experience.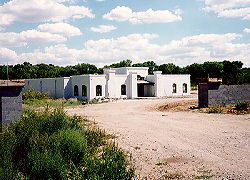 "The moment when we all realize it's done, it's finished, is still in the future by about a week, I think. That will be when the landscaping is all done, the mounds of dirt around the place are gone and the flowers all go into bloom. That will be the moment when we finally say; 'We're done!' I'm looking forward to that."
---

The Area

Casa de San Pedro is located just 90 miles southeast of Tucson Arizona and 20 miles southeast of Sierra Vista in the San Pedro River Valley. At an elevation of 4200 feet, this area is one of the most comfortable regions in North America with an average summer temperature of 88 degrees. Arizona is a landscape of bold color and piercing beauty. Mountains called "Sky Islands" rise abruptly. The inn is adjacent to the San Pedro Riperian National Conservation Area and is situated on ten acres bordering the San Pedro River.

This is a unique habitat attracting over 335 species of birds, 82 species of mammals and 47 species of amphibians and reptiles. Over 100 species of resident and breeding birds and another 200 plus species of migrant and wintering birds are found in this area. This represents roughly half of the regularly occurring species in North America. Notable birds include 36 species of raptors such as the Gray Hawk, Mississippi Kite and Crested Caracara.

The remarkable history of Southern Arizona includes the 11,000 year old Clovis Culture Coronado's search for the Seven Cities of Gold, the Apache Geronimo, and the Gunfight at the OK Corral.
---

The Amenities

The Inn's 10 courtyard guest rooms feature private baths and are entered from a covered patio with a fountain and vegetation selected to attract birds into the courtyard. The breakfast gathering in the dining room affords a unique opportunity to meet other guests get tips on local hikes or find the best wildlife habitats. The Inn is designed as an excellent business retreat or secluded environment for special occasions such as weddings or honeymoons. For detailed information see the listing for Casa de San Pedro in The Register.
---
All Photos Copyright Casa de San Pedro
---


Copyright ASSIST Information Services