Click here for www.PriceLine.com
---
You're Reading TravelASSIST MAGAZINE

---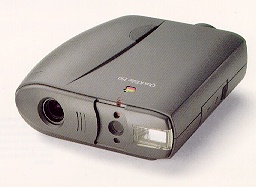 APPLE QuickTake 150
---
The following information and specifications were scanned from an Apple sales flyer.

---
ORDERING INFORMATION:
Apple QuickTake 150 Digital Camera for Windows Order No. M3791
QuickTake 150 digital camera for Windows
Close-up lens QuickTake 1.5 software
PhotoNow!! TWAIN driver from PictureWorks
Serial cable for connecting camera to your computer
Three AA lithium batteries
Battery recharger
QuickTake 150 User's Guide

QuickTake Battery Booster Pack Order No. M2655
Lets you take thousands of pictures with your QuickTake 150 digital camera
Eight AA lithium batteries included

QuickTake Travel Case Order No. M2848
Includes leather camera grip and protective carrying case

QuickTake AC Adapter Order No. M2851
Lets you power your QuickTake 150 digital camera using AC power

QuickTake Connection Kit for Macintosh Order No. M3792
Allows you to connect your QuickTake 150 digital camera to an Apple Macintosh personal computer
Product specifications are subject to change. Check with your Apple reseller for the most current information about product specifications and configurations.
TECHNICAL SPECIFICATIONS
Image
24-bit color

Resolution
640 by 480 pixels (all images)

Memory
1 MB of Flash EPROM stores up to 32 standard quality images, 16 high-quality images, or a combination
Storage time: up to one year, even without batteries

Focus-free and close-up lens
Focus-free lens: 4 feet to infinity; equivalent to a 50-mm lens on a 35mm camera
Close-up lens: accurate from 10 to 14 inches; includes parallax error correction, flash diffusion, and range finder

Built-in flash
Three modes: Off! fill, I I, Automatic
Range: 4 to 9 feet (10 to 14 inches with close-up lens)
Cycle time: 7 seconds

Power
Includes three AA lithium batteries
Battery life: over 200 images (100 flash, 100 no flash, download and erase all images)
Supports three 1.5 volt AA, R6P, LR-6, or SUM-3 NiCad or lithium batteries
Optional AC adapter

Other features
Self-timer: electronically controlled with a 10-second delay
Shutter speed: from 1/30 to 1/175 of a second
Aperture: from f2.8 to f16
ISO equivalent: 85
Viewfinder: gives 92 percent coverage of actual image area

User controls
Shutter release, image quality, flash, self-timer, and Erase All Images

LCD display
Number of images that have been taken
Number of images remaining
Image quality, flash, and self-timer settings
Erase All Images
Battery level

QuickTake 1.5 application
Display thumbnails of images
Select, process, and view images
Rotate images by +/- 90 degrees
Crop, scale, and zoom in on images
Lighten/darken image
Correct for fluorescent light
Cut, copy, and paste images into other applications
Erase images in camera
File formats: TIFF, JPEG, PCX, BMP, and QuickTake
Transform images to 16 bit, 8 bit, and 1 bit
Control all features of the QuickTake camera from the software, including taking pictures and downloading all images

PictureWorks PhotoNow! TWAIN driver
The same easy-to-use slide table and camera controls found in the QuickTake 1.5 software
TWAIN driver provides direct access, control, and downloading of images from within popular Windows software, including WordPerfect, Photoshop, PhotoStyler, Microsoft Publisher, Aldus PageMaker, and more

Size and weight
Height: 2.2 in. (55 cm)
Width: 5.3 in. (135 cm)
Depth: 6.1 in. (155 cm)
Weight: 1 lb. (0.5 kg) kg)