Click here for www.PriceLine.com
---
You're Reading TravelASSIST MAGAZINE

---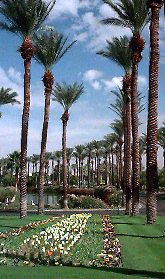 PALM SPRINGS
By Linda-Marie Singer
"George Washington Slept Here." But, unfortunately, his overnight stay didn't take place in Palm Springs while en route to Valley Forge in 1777. History tells us that instead of thawing out and relaxing in the desert, the general and his troops were freezing in Pennsylvania. Too bad. If he had chosen Palm Springs instead of the icy little hillside where they actually bivouaced, he would have heard fewer complaints from his troops, as they slogged through the treacherous winter weather to victory.

Today, you are probably plodding through just the same kind of weather as those famous soldiers and feeling just as miserable about it. But now is your chance to learn from history. Don't make George Washington's mistake! Go stay in Palm Springs while there's still time. Think about it. If it's January, chances are it's a blustery 20 degrees in Chicago, -10 in Wisconsin, and who knows what in Juno, but in Palm Springs it's bound to be a balmy 75.
---
The images on this page were taken as part of a review of the Apple QuickTake 150.
---
Sunsprinkled days. Starlit nights. Breakfasts served on the patio -- beside the pool. Back in the 1930s when this golden oasis was nicknamed the "Playground Of The Stars," Greta Garbo, Clark Gable, Joan Crawford, and Marlene Dietrich all flocked to this irresistible desert arena. Even though Palm Springs was only 100 miles from Los Angles, (which was probably also 70 degrees) there were plenty of other enticements. To the headliners of the silver screen, it felt like a world away from the studios and fans, tucked away between the San Jacinto and Santa Rosa mountains.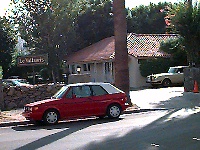 While no one can argue that the city was more exclusive in those days, the aura of glitter still remains. At any moment you might spot a superstar dining in one of the fine restaurants like Le Valluris (619/325-5059), voted by Zagat as "Best In The Valley", or teeing off at one of the many celebrity golf and tennis tournaments. Charity balls attract celebs' in droves, and stars, too, enjoy just sauntering along Palm Canyon Drive, the main drag.
If you take a Celebrity Tour (619/770-2700), you'll be astonished by the number of entertainers own real estate in this posh desert resort. Tourists numbering more than 2 million visit Palm Springs annually, but no matter when they arrive, the city is always jammed with superstars, retired corporate tycoons, not to mention a former American President, and the high profile U.S. Congressman Sonny Bono.
The Palm Springs International Film Festival (619/322-2930), occurring in January, makes hotel rooms especially scarce but superstars especially plentiful. Now in its 8th year, the cinematic mega-event attracts over 46,000 fans and offers a spectacular list of Who's Who.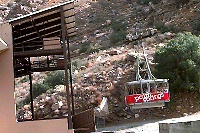 If your plans are to head out along the Coachella Valley to such tony encampments as Cathedral City, Rancho Mirage, Palm Desert, La Quinta and Indio, you could miss the chance to glide up the mountainside to 8,516' above sea level on the Palm Springs Aerial Tramway (619/325-1391). That would be a serious Palm Springs oversight and you would also miss the thrill of tramping around the 54 miles of hiking trails, through an alpine Forest, amid actual snow drifts most of the year. While at the top visit the Nordic Ski Center, and then enjoy a special dinner before stepping into the tram for the glide back to earth.
There's Plenty more to do in Palm Springs before hitting the Coachella Valley trail. You'll want to visit the Camelot Park Family Entertainment (619/325-770-7522), the Thursday night VillageFest street fair on Palm Canyon Drive, and the Palm Springs Desert Museum (619/325-7186) for classic Western American and contemporary art. There's Palm Canyon lined for 15 miles with nearly 2,000 Washingtonian Palms in a spot where the great general never set foot.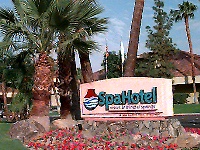 You , on the other hand , can march along a stream through the steep canyon where Indians burned bark from the trees to promote their growth giving them their exceptional height. The original Hot Springs is worth a soothing visit with its "miracle healing" mineral water, discovered by the Aqua Caliente Indians centuries ago. The Hot Springs are now part of the Palm Springs Spa Hotel and -- yes -- Casino. New this year, gaming is permitted at this venerable hotel and to reserve your accommodations you can call (619/325-1461).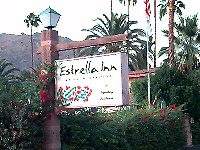 For stellar lodgings at a modest price contact The Estrella Inn (1-800-237-3687). The inn cultivates guests who thrive on being treated like royalty, as the name implies. Estrella is Spanish for star, and that's the kind of treatment you'll enjoy. (Rates through December start at $95). Set at the base of the San Jacinto Mountain, the splendid property recently underwent a multi-million dollar renovation and contains acres of fruit trees and gardens, 3 pools and spas, plus a BBQ.
Joan Crawford was so nutty over The Estrella Inn, that she stayed in the same bungalow year after year. You can walk through her quarters, with all her 8X10 glossies still there. The 74 bungalows, suites and guest rooms include many full kitchens, fireplaces, courtyards and patios. Ask to see Ann Miller's room, or Bing Crosby's. you can also see where Gable and Lombard got away from it all. You'll get away from it all, too, and still be just a few minutes walk from town.
If you've made the trip through the Coachella Valley to Palm Desert and feel a need to cool off, stop by the Ice Chalet at the Palm Desert Town Center. The more adventurous can call Desert Adventures (619 / 864-6530) for a jeep safari through the Indian Canyons, while Covered Wagon Tours (1-800-367-2161) is a sure pleaser for youngsters. Horseback riding is available at the Ranch Of The 7th Range in La Quinta (619/777-7777).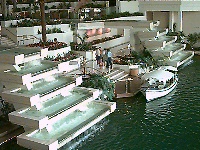 Palm Desert is home of the 891 room Marriot Desert Springs Resort & Spa, one of the premier resorts in the area. Located just minutes from "The Springs" the Marriot features a series man-made lakes which are traversed by the resort's motor launch. Guest are ferried from the lobby to the property's well known restaurants. In addition to its world-class golf course the 27,000 square foot spa attracts visitors from around the globe.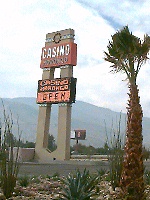 Only 35 minutes away in Indio is the spot where where Las Vegas thrills meet Palm Springs serenity. The result is the dazzling Fantasy Springs Casino (619/342-5000) with $600,000 in jackpots every week. They'll teach you how to play their exclusive Caribbean Stud Poker, or, if you're up early, you can join The Texas Hold'em Morning event that gives away $1,000 daily. Of course, there's always a cool grand to be won at MegaBingo. Much like gaming casinos everywhere, you'll also find a Vegas-type show (this one is called "Festivale!"), while exquisite dining begins at only $15.
If you're there in November, you're invited to attend the American Indian Festival (619/342-2593X3017), hosted by the Fantasy Springs Casino and the Cabazon Band of Mission Indians. It should be noted that the Cabazon opened the first card casino on an Indian Reservation in the nation, and thus paved the way to Indian gaming throughout America.
Even if you're not the gambling type you can still bet on an exceptionally good meal and show, confident that you'll come out a winner. For electronic amusement, it's hard to resist all the video slots and games. There are 500 in all, and you can spend the whole evening amid rows and rows of machines mesmerized by spinning plums, oranges and of course, cherries. If George Washington had stayed here over night, he might have gotten his fill of cherries, without having to chop down that tree.
FOR MORE INFORMATION CONTACT PALM SPRINGS TOURISM:
http://www.palm-springs.org
---
Photos Copyright Bruce Murray
---


Copyright ASSIST Information Services