Click here for www.PriceLine.com
---
You're Reading TravelASSIST MAGAZINE

---
Jamaica's Quiet Side - Port Antonio
by Larry Benedict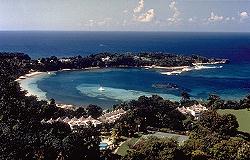 Finding romantic spots in Jamaica is easy. Finding a secret hideaway that offers a combination of tranquillity, history, natural beauty and seclusion requires a bit more ingenuity. On the northeast shore of the island, however, lies Port Antonio, now a sleepy little town that offers all these things.

Considered to be the birthplace of Jamaica's tourism, it was once the primary Jamaican destination for vacationing movie stars, politicians and tycoons. It wasn't till the airport at Montego Bay was built that Port Antonio became known as "the other side of the Island." Clara Bow, Rudyard Kipling and Ginger Rogers, were early devotees, drawn by the exotic lure of the island's banana trade.

Port Antonio's difficult accessibility, requiring travel over tortuous mountain roads, has preserved its sleepy charm, yet attracted movie crews to its unspoiled locations where high-budget features such as "Cocktail" and "Club Paradise" were shot. Early in the century the town's reputation among Hollywood insiders soon attracted the likes of Errol Flynn, (who bought a nearby island), J. P. Morgan and William Randolph Hearst, who sailed up in their yachts to enjoy Port Antonio's simple, yet exotic tropical pleasures.

Errol Flynn was so in love with the area he claimed he never met a woman as beautiful as Port Antonio and he spent much of his later life on his island. His estate is now a resort and marina open to visitors and is practically a museum of his possessions including artifacts from his film acting career. His widow, Patrice Wymore Flynn owns a boutique in the Palace Hotel and operates a working cattle farm.

More recently, stars who arrived to enjoy the beauty of the area include Kate Moss, Robin Williams, Glen Close, Kevin Kline and John Cleese. Author of "The French Connection," Robin Moore, chose Port Antonio to hide away while he wrote famous story.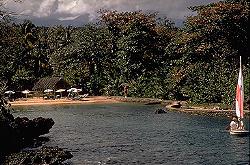 Celebrities are often accommodated at Trident Resorts, Villas and Hotel. Trident Resorts is fashioned after an English Country Estate on 14 acres of parkland, including manicured gardens where peacocks wander freely. Dinner is served in a formal dining room and comprises six courses. Guests, attired in jacket and tie after 7 pm, are meticulously attended with white-gloved service. Trident Resorts offers 27 guest accommodations facing the ocean and decorated with antique furniture.
Even though the emphasis is on tranquillity, there are still plenty of exciting local attractions. Deep-sea fishing, particularly for marlin, is renowned, and there is a Blue Marlin Tournament in October. Tuna, kingfish and wahoo are also plentiful and fresh- cooked catch can be washed down with the local Jamaican Red Stripe beer.
Those seeking land-based ecotourist destinations will feel right at home in Port Antonio. An organization known as Valley Hikes is dedicated to conducting tours while preserving the area's natural beauty. It offers expeditions to hidden waterfalls and the many caves of the region. A special attraction open to tourists, is the Blue Lagoon, where you can enjoy a glass-bottom boat ride and sample local "finger-food" known as jerk-chicken and jerk-pork. this delicacy was originated by the Arawak Indians, Jamaica's earliest inhabitants. Jerk pork was later perfected by runaway slaves know as the Maroons who hid out in the mountains and depended on it as their primary source of food during years of Guerrilla warfare against the English.
Those looking for a lively change of pace will find a river-rafting excursion on Jamaica's own Rio Grande, where bananas were once rafted to the sea, an exciting change. It's a gentle eight mile descent beginning at Berrydale and culminating at the appropriately named Rafter's Rest. This is a swift green waterway that is navigated by a raftsman poling a 30 foot, two-person, bamboo raft down the twisting river. Stopping to picnic anywhere along the route will attract sellers of the ubiquitous "Red Stripe" beer to add to your enjoyment of the trip.
The town's most famous historical landmark is a ruin known as "Folly." It was a Roman- style villa constructed on the eastern edge of East Harbor almost entirely of concrete by a Connecticut millionaire. Due to a thoughtless mistake, the concrete was mixed with seawater and the edifice began to crumble as soon as the concrete had dried. The locals will tell you that as soon as the bride for whom the castle was built saw the disaster she fled the area, never to return. Today little remains but the expensive marble floor.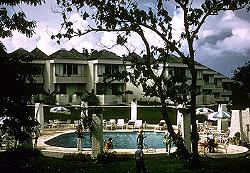 Among the variety of accommodations ranging from elegant and posh to quaint and delightful, is Goblin Hill Villas. It offers 28 one- and two-bedroom, white stucco villas with kitchen, living room, dining room and covered terrace, on the twelve acres of San San Estate. Each villa is staffed with a cook/housekeeper to prepare and serve meals. Goblin Hill Villas is located 5 miles from Port Antonio and the beach is within walking distance.
A Caribbean style Villa, Mockingbird Hill, is situated on seven acres of national park and is notable for its efforts to preserve the environment. Here breads are baked in solar ovens and rooms are decorated with original artwork. In and around Port Antonio itself you will find the Bonnie View Plantation Hotel, (one of the oldest continuously operating hotels in the Caribbean), the Jamaica Crest Resort featuring studio, one and two-bedroom suites and the Jamaica Palace Hotel an elegant 80 room resort.
While romance is the setting for almost every Port Antonio activity, there is no more romantic interlude than Crystal Springs about 18 miles west of the town. Crystal Springs Sugar Plantation, now a Nature Preserve and Environmental Resort covers 156 acres and is home to a wide variety of orchids and birds. Day trips are available and private cottages can be rented for longer stays. This could be your secret hideaway, where hummingbirds alight on lovers' outstretched hands, as couples stroll amid a profusion of 15,000 orchids. Though it seems like a Disney fantasy, it's exactly what awaits you at Crystal Springs.
Port Antonio is generally approached by car and is about two hour's drive from Kingston. It can be reached by air on Air Jamaica Express (or other domestic carriers) but this necessitates a change of planes at Kingston including a short trip to another airport.
The restored downtown area of Port Antonio, once frequented by the most romantic stars of the silver screen, allows the visitor to almost feel their presence today. If romance, tranquillity and natural beauty are in your plans, Port Antonio, the little place on "the other side of the island," could be your ultimate destination.
For more information on Port Antonio call the Port Antonio JTB Office: (809) 993-3051
The Jamaica Torist Board operates the Jamaica Travel web site.
Goblin Hill Villas - c/o 11 East Avenue - Kingston 10 - (809) 925-8108
Bonnie View Plantation Hotel - PO Box 82 - Port Antonio - (809) 993-2752
Jamaica Crest Resort - Fair Hill - PO Box 165 - Port Antonio - (809) 993-8400/1
Jamaica Palace Hotel - Williams Field - PO Box 277 - Port Antonio - (809) 993-2020
Crystal Springs Sugar Plantation: (809) 993-2609
For rafting reservations call Rafters Rest - bar, restaurant and souvenir shop: (809) 993-2778

---


Copyright ASSIST Information Services