Click here for www.PriceLine.com
---
You're Reading TravelASSIST MAGAZINE

---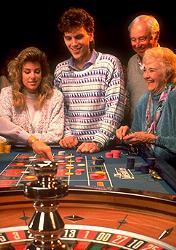 Gaming Nevada Style
By Richard Carroll / Photography: Donna Carroll

A 30-year-old man dressed in jeans and cowboy boots arrived at Binion's Horseshoe Club in Downtown Las Vegas in a battered old Ford. He walked in carrying two suitcases, one filled with $100 bills in $10,000 bundles and the other empty.

He wagered $777,000 in $500 chips on the back line of the crap table. A woman, on the third roll of the dice, threw a seven. He didn't utter a word or leave a tip as he walked out to his Ford carrying two suitcases loaded with a payoff of $1,554,000. The woman who tossed the lucky roll had a $1 bet on the table.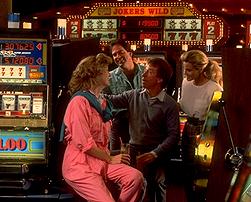 Gaming tales abound. A retired couple hit a $250,000 jackpot on a "Big Bertha" slot machine the size of a small motorhome. A barely interested player suddenly hit for $300 while dabbling at Keno during lunch. These myths and legends as well as plenty of substantiated reports all contribute to the zany Las Vegas mystique.
Nevada gaming is designed for everyone. Casual weekenders hoping to plunder the jangling slot machines (the casinos' primary moneymaker) are as welcome as the high-roller who drops by in a private Leer Jet, sporting a $5,000 a day gambling budget.
The games of chance and garish atmosphere make up the ambience of the casino. Choose from baccarat and the twirling roulette wheel, two symbols of style imported from the French Riviera, or drop by the busy crap tables and mesmerizing card games such as blackjack whose roots are as American as apple pie. Slot machines are lined up wall-to-wall flashing and ringing like garish robots on the take. Keno, a quiet game played with a pencil and a printed sheet of numbers, is far removed from its ancestor Pai Gow, an ancient Chinese gambling game.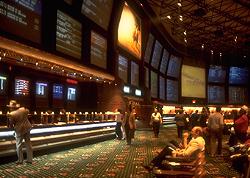 Red Dog, played during the California gold-rush era and by American servicemen in World War II, is also known as "Acey Deucey" or "In-Between." Super Pan 9, is easy to learn and similar to baccarat. The object of Super Pan 9 is to have your card hand as close to nine as possible without going over.
Blackjack, craps, video poker, bingo and progressive slots, are the Las Vegas favorites along with the Race and Sportsbooks, a popular addition to mainstream casino action. In-house casino books range from modest one-window betting operations, to posh wagering rooms equipped with giant, satellite-fed projection screens, plush seating and Racing Forms.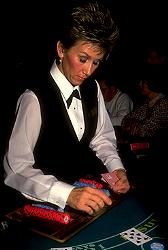 Casinos and particularly hotels are ready with advice and instruction to help everyone have a good time. They advise visitors to arrive with a gaming budget, spread it over the entire vacation by betting modestly, and never go over the specified amount. The longer you play, the more fun you have. To win is to extend your playing time.
Regardless of the casino, odds on each game are in the house's favor. Gambling should be regarded as casual entertainment, not a way to earn a living. Enjoying the dazzling ambience is half the fun.
GAMER TIPS

Dress code--There is none.
Jewelry--Too much is just enough.
Toke--A tip.
Buy-in--An amount of folding money with which a player enters a game.
Action--Any kind of bet.
Edge--Advantage.
Line--The current odds or point spread on a particular event.
Shoe--A holder from which cards are dealt.
Pit Boss--The pit boss supervises the action on the gaming tables. His domain is called "the pit" because it is an area surrounded by tables and off limits to the general public.
Marker-A casino IOU.
Shooter--The person who rolls the dice in a crap game.
---
Photos Copyright Donna Carroll and Lakeside Inn
---


Copyright ASSIST Information Services