Click here for www.PriceLine.com
---
You're Reading TravelASSIST MAGAZINE

---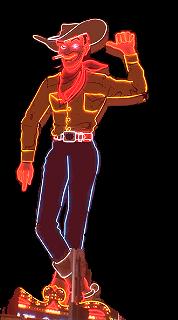 Las Vegas, Fun In The Sun
By Richard Carroll / Photography: Donna Carroll

Las Vegas is a city seemingly isolated from the rest of the country by a whirl of razzle-dazzle unique to North America. Gaudy and dynamic, Las Vegas is a place in the sun where people can live out their fantasies for a day or two, knowing, going in, that the percentages are with the house. Happiness is jingling a Dixie Cup filled with quarters and free drinks galore while having fun losing your shirt, tie and bloomers.

Buffets from stem to stern, breakfast served all day, long-legged girls strutting on stage with perfumed feathers, and the ubiquitous, fresh frozen Las Vegas Shrimp Cocktail, (one dollar cash), guaranteed to uplift sagging spirits are only the beginning of the desert dazzle.

Las Vegas is where gamers pawn their watches in the morning and dine at Caesars Palace that evening, arrive by car and leave by bus. Pawn shops have walk-up windows and night service. There are more coupons and printed fliers offering deals and give-aways, than you can stuff into your pockets. And, for the high rollers comes a big smile, a personal handshake, and the key to the City.

The pot of gold, in its showy 24-hour taunting stance, is waiting to be plucked and dares you to try. See the display case filled with 100, $10,000 dollar bills at Binion's Horseshoe. Vegas Visitors win cars, motorcycles, Caribbean cruises and huge jackpots on slot machines named "Million Dollar Babies," while listening to an Elvis Presley clone's lounge-act or the latest in country-western. The Golden Nugget appropriately showcases the world's largest gold nugget, a 61-pound beauty, while nearby, on Fremont and Main, Amtrak delivers passengers directly onto the casino floor in the middle of the action.

Among the fastest growing metropolitan areas in the country, the city is spreading into the desert like the tentacles of a giant octopus. If a few years have passed since your last visit, you might not recognize the place.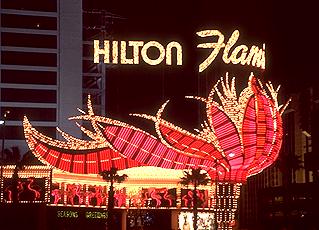 Along the Strip, or Las Vegas Boulevard, the old landmark favorites such as the Flamingo Hilton, Aladdin, Caesars Palace, Circus Circus, Hacienda, Sahara, Sands, Stardust and Tropicana are being challenged by new kids on the Strip such as Treasure Island, The Mirage, Excalibur, the Luxor Hotel and the MGM Grand.
Stretch your legs and walk the Strip for a day to experience the free entertainment, Las Vegas style. See MGM memorabilia including the Tin Man and Dorothy from the Wizard of Oz at the MGM Grand Hotel, Casino and Theme Park. Wildlife and exotic birds abound at the Tropicana Resort and Casino; Excalibur is a step into medieval times, while Luxor is themed around Egypt and all its glories.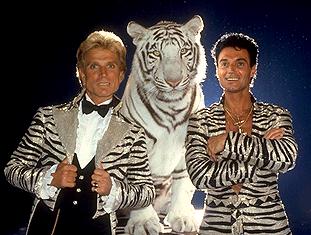 The Mirage sports a volcano with spouting lava that is spectacular at night. Enjoy 24-hour, free viewing of playful bottle-nose dolphins and elegant white tigers, the stars of Siegfried and Roy's Magic Spectacular. Next door, Treasure Island, a sister property, presents an exciting pirate fight on Buccaneer Bay that Disney would be proud to own.
Upcoming at the Las Vegas Hilton is "Star Trek: The Experience" scheduled to open in spring 1997. It was conceptualized and designed by Paramount Parks. The 65,000 square-foot, permanent attraction will allow visitors to immerse themselves in the world of Star Trek via a state-of-the-art simulator ride, a themed restaurant, a virtual reality experience and electronic game area. You will see, feel, touch and live the adventure of Star Trek's futuristic environment like never before.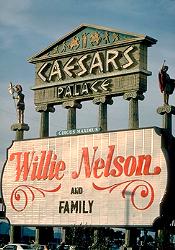 Beyond the multitude of free attractions, the presentation of live stage shows is an indulgence in sheer splendor. The lavish productions with their magnificently attired showgirls are the best of their kind. Each edition reflects thousands of hours and millions of dollars in planning, construction, design and rehearsals.
If, after a show, you're in the mood to get married, you will be in good company. Each year nearly 100,000 couples are married in Las Vegas. All you need is a $35 license obtained at 200 S. 3rd Street; 8 a.m. to midnight.

WHEN YOU GO
Coping with Vegas traffic is fast approaching the chaos of Paris and Rome. Taxis drive like Indianapolis race-drivers and can be street rude. Allow ample time when traveling through the city. Traffic lights are long and traffic is heavy. Don't miss your flight due to a last minute rush. On foot be aware that, as in all big cities, pick-pockets abound. Carry your money and wallet in front pockets and protect your credit cards.
Recommended is What's On Magazine, a Las Vegas Survival Guide filled with current entertainment information. Call (702) 891-8811 for information.
Las Vegas Convention and Visitors Authority:
3150 Paradise - Las Vegas NV 89109
(702) 385-7367
Nevada Commission on Tourism:
(800) NEVADA-8
---
Photos Copyright Donna Carroll, Caesars Palace and Siegfried & Roy
---


Copyright ASSIST Information Services