Click here for www.PriceLine.com
---
You're Reading TravelASSIST MAGAZINE

---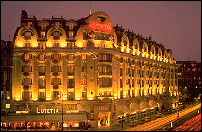 Left Bank Hideaway - Paris, France
By Richard Carroll

The gracious art deco Hotel Lutetia, standing since 1910 on the left bank in Paris, has long been a hideaway for writers, artists and others who celebrate the spirited aspect of Paris.

The famed Lost Generation, headed by Ernest Hemingway, F. Scott and Zelda Fitzgerald and the great Picasso, has gathered here along with Matisse, Andre Gide, Cocteau, John Irving and a long list of internationally known characters.

Visitors drop into the luxury Hotel to enjoy a set or two of Jazz at the Bar Lutece, in remembrance of the spirit and soul of St-Germain des Pres They come to indulge in a genuine Parisian Brasserie, and enjoy Old World elegance. Dogs are welcome and treated like royalty.

According to General Manager Jean-Marc de Margerie, who calls Paris home, "The essence and atmosphere of the city is on the left bank; it's more human and," he adds, chuckling, "the food tastes better. For the price of a double room on the right bank, you can have a suite on the left bank."

Minutes from the Luxemborg Gardens, the Orsay Museum and hundreds of antique shops and fashion boutiques, the hotel is located at 45 Boulevard Raspail, 75006, Paris, France. (800) 888-4747.
---
Photos Copyright HOTEL LUTETIA
---


Copyright ASSIST Information Services