Click here for www.PriceLine.com
---
You're Reading TravelASSIST MAGAZINE

---
What are Hostels?
By Richard Gray
(Richard Gray, the owner of the Trojan Horse Lodge Hostel and long-time spokesperson on the advantages and pleasure of the hostel experience.)
Hostels are clean, inexpensive places to stay overnight. They provide the basic necessary facilities for travelers without most of the expensive services. Most Hostels are equipped with bunk beds, a self service kitchen, hot showers, and lockers. Most have gender separated dormitory rooms, but the trend now is to provide smaller rooms and to have rooms for families and couples. Some Hostels are in homes, some in large hotels; some are fancy, and some very rustic. Most Hostels are in the 20 to 50 bed range with rooms averaging 6 beds each. They are less expensive than other lodging facilities because of the limited services provided.
Hostels are a place where travelers of all ages from all over the World can meet. Guests swap stories of their travels, hostels they have stayed in, and the people they have met. You can learn a lot about the rest of your trip if you talk to a person who has just been there. And you will learn a lot about other people of the world, their customs and cultures, and maybe how they feel about yours.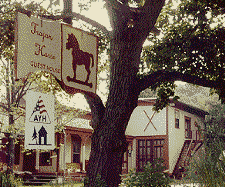 Trojan Horse Lodge - Ludlow Vermont USA
Why does a 60 year old woman hike the whole length of the Appalachian Trail? Twice ? Where is the best place to eat in New York City? Is there any place local for good seafood? What was it like in Berlin when the wall came down? Does only one American family live in such a large house?
There are Hostels in country inns, lighthouses, village homes, city hotels, universities, working farms, former jails, historic sites, and national parks. This diversity yields a great variety of services and activities. The hostel traveler can find hiking, biking, water sports, skiing, rock climbing as well as there are historic walks and tours, galleries and museums.
In a Hostel you may not have all the privacy you are used to. There are shared bathrooms, group dorms, shared kitchen facilities and sleeping next to strangers. You may meet people from anywhere, share food, spend hours talking about adventures and learning about each other. You will also find that most everyone is respectful, courteous, and accommodating.
On your next adventure, try hosteling. You will find that it is a very pleasant experience. And if you find any hostels that are not on our lists, please let us know so that we may share the information with others.
Hostels have grouped together for strength in advertising and promotion and to pool their experience. Hostel associations include:
American Association of International Hostels

Backpackers Hostels - Canada.

These are the independent hostel groups of the U. S. and Canada. They are usually owner operated and have fewer rules. These Hostels may require a Student Card or Passport. There are about 50 Hostels in this group.

InterClub - An independent chain of Hostels that is usually combined with large hotels. They are currently in five major cities.

Hosteling International (HI) is the oldest and largest hostel organization. There are about 250 in North America and about 5000 through out the world. These Hostels are more likely to have hostel based programs. HI is a membership organization but non-members are welcome at most HI Hostels for a few dollars more. HI Hostels may be more strict in their customs of curfew, check in times, quiet hours, alcohol use, and use of the Hostel during the day.

Others: There are also quite a variety of lodgings across the country that are not attached to a group. All hostels provide the basic necessary services (shelter, shower, security) to travelers for about $20 per person.
There are several locations on the INTERNET where you can get specific information;
HI-AYH has a home page located at http://gnn.com/gnn/bus/ayh/. This site contains listing of all HI hostels, hostel news, and information.

The Internet Guide to Hosteling is located at http://www.hostels.com/hostels/. It has many features and provides information on hostels world wide.

Go Hosteling Home Page: http://hostel.com/~ebarnett/gohosteling.html has good information on hosteling for newcomers, and Hostels on the West Coast. It contains articles on hosteling, cycling, and sight-seeing in the North West.

The New England Hostel News: a newsletter of the events and trips planned by the councils and HI hostels of the New England Area. Located in the Travel Articles Library section of AOL Travel Forum. This newsletter is available for downloading by AOL subscribers. The newsletter can be obtained by email on request from thlodge@aol.com

GUIDE BOOK
All the above North American Hostels (about 500) are listed in The Hostel Handbook. For a copy send $3 for book, p&h to: Trojan Horse HG, 44 Andover St, Ludlow VT 05149

---
Text & Photo Copyright Richard Cray
---


Copyright ASSIST Information Services