Click here for www.PriceLine.com
---
You're Reading TravelASSIST MAGAZINE

---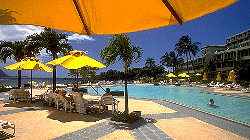 Enjoying Your ZZZZ's In Kauai
By Richard Carroll - Photography: Donna Carroll
Selecting a holiday homebase can be confusing. Kauai's variety of accommodations simplifies the decision.
---
Reload this page with Eight 40k 256 color .gif or Eight 20k 16mil color .jpg images.
---
No matter how many times you visit Kauai, soft air filled with the babble of throaty birds and the wondrous scents of ginger and plumeria are often your first impressions. Kauai, solidly entrenched atop a large shield volcano rising three miles above the ocean floor, is encircled with more than 43 white sand beaches, sheer cliffs, waterfalls and vistas streaked with dazzling green hues.

Most of the island's residents live along the coast, leaving the sprawling interior to the acres of sugar cane, wild goats and pigs, and the majestic Waimea Canyon, one of Hawaii's most revered treasures. For all the development going on in Hawaii, Kauai remains magnificently grand. The ever-present trade winds act as a natural air-conditioning system, resulting in temperatures that seldom vary more than 20 degrees, regardless of the season.

The essence of Hawaii's northernmost island, the Garden Isle, is nature's natural gifts. They are found here in abundance in an almost circular landscape--33 miles wide and 25 miles long with distinct micro-climates that include sweeping coastal sand dunes, deep river valleys, and one of the world's wettest sites, Mt. Wai'ale'ale. Here, the rain falls at the rate of about 486 inches a year and is the trusty fountainhead for the Wailua River, Hawaii's only fresh-water navigable river, perfect for kayaking and nature excursions.
---

STEVE HUNT'S KILAUEA LAKESIDE ESTATE
Impossibly romantic and free-spirited, Steve Hunt, who's Great Uncle Poindexter was Governor of Hawaii, has maintained a passionate love affair with Kauai and the North Shore most of his life. Hunt offers the only lakefront home in Hawaii, a secluded love nest overlooking a 20-acre freshwater lake, only minutes from the beach and the spiffy Princeville Hotel.

Great for a family, or two or three couples, the three bedroom, three bath estate, located within the Kilauea Bird Sanctuary, is the ultimate Hawaiian escape complete with a treehouse and a 3-par, 100 yard golf hole shared with ducks, coots, red breasted cardinals and snowy egrets that strut around as if they owned the place. The spacious grounds are meticulously maintained and dotted with colorful flowers, a sweeping lawn, and mature trees that dapple the light and shelter the wild and raucous roosters.

Guests stroll up the rock-strewn Waiakalua Stream that snakes through the property to a small waterfall and verdant rainforest alive with wild flowers and mossy ferns feeling like a native islander on a back country exploration. Horsebackride on an adjoining ranch, cast a line for bass, skinny dip in the lake under a drooping breadfruit tree or from an inflatable boat, and then snooze in the comfy hammock and dream that the world is on vacation. The house is designed island-style, with a cathedral ceiling, pastel colors, rattan furniture, full open kitchen, a number of dining choices and a washer and dryer.

Shoes not allowed in the house, but memories of good times are. Kilauea Lakeside Estate; (310) 379-7842.
---

KILAUEA TOWN
Tucked between Kilauea Lakeside and the Princeville Hotel is Kilauea town, a center of the old sugar plantations, with historic churches, a large guava plantation and fruity drinks at Banana Joe's and Mango Mamas. Farmers sell organic yams, sweet potatoes and papayas in a timeless setting of Kauai hospitality, while in the Kong Lung Center, the Kilauea Bakery is serving up Billy Holiday Pizza with smoked fish and roasted onions; Napali brown bread with fennel and piping hot Hawaiian sour dough bread.

You can pack a picnic lunch and kayak up the Kalihiwai River, then drift downstream to the Anini Beach lagoon. The experience is a glorious half-day outing that most visitors overlook. When the tide is low Anini Beach's black volcanic rock is swarming with sea urchins, sea cucumbers, lace coral and fish trapped in deep sandy holes. The reef is cracking and popping from the blazing sun, while a quarter mile out the surf is breaking over the reef in a mighty roar.
---

PRINCEVILLE RESORT
The Princeville Resort, a short drive from Anini Beach Park that overlooks Hanalei Bay, is the North Shore's crowned royalty. It was voted the top hotel for ITT Sheraton North America. The glorious setting of sparsely developed mountains that slope steeply into the ocean should win the gold every year.

The hotel is Terraced on a cliff and you arrive on the marbled ninth floor. The lobby of the palace-like property is open to the coastal view in a grand blending of indoor/outdoor space. The island's arts, crafts and pre-statehood music are featured in a lush setting of Hawaiian heritage and floral designs. At some point during your stay will work your way down to the first floor and the beach where you can enjoy the sunset from the most northeastern point in the Hawaii.

A honeymoon haven, special touches include custom-designed furnishings, original art, oversized bathtubs, 24-hour room service, Italian and Pacific Rim dining, top-ranked golf on two Robert Trent Jones, Jr. courses, tennis on 25 courts, a five-star spa and service that is a way of life. (800) 826-4400; (808) 826-9644.

Kupuna Weiss, a lei designer at Princeville, who's grandfather never drove a car or owned a clock said, "When I was a little girl growing up here, you could get in trouble for chewing gum and walking too loudly. Life has always been sweet in Hawaii."
---

ASTON HOTELS & RESORTS
Another hospitality player is the family-owned Aston Hotels, synonymous with value-packed condominium-style holidays. Condo rates are based on room type rather than the number of guests and have fully equipped kitchens that save visitors a bundle of cash.

Kauai condos include the Aston Kauai Beach Villas near the Fern Grotto and Wailua River, and the Kaha Lani Condo Resort a few minutes from the challenging Wailua Golf Course.

Aston Savings:Children under age 18 are no additional charge if they occupy existing beds in the condo with their parents. Seniors receive discounts up to 25 percent on room rates; guests also save when booking a Budget Rent a Car through the Aston Car Certificate Program.

Aston also has a free Fun Book filled with coupons offering discounts on gifts, meals and admission to attractions. Value season is from April 1 through December 22. Check their travel packages at (800) 922-7866; (808) 931-1400, or visit Kauai's website.

For a free official Kauai Vacation Planner call (800) AH-KAUAI; for live tourism updates direct from Kauai, call (800) 262-1400.
---


Copyright ASSIST Information Services