Click here for www.PriceLine.com
---
You're Reading TravelASSIST MAGAZINE

---
Excerpt From
California By Train, Bus & Ferry
Edited by Kirk D. Schneider
Introduction
Can you travel in California without a car? For most destinations the answer is "Yes!." Contrary to the widely-held belief, personal research reveals that California's public transit system is among the best in the United States.
There are few other places where you'll find the variety of public transit modes available in California; everything from historic cable cars to modern metros. You can cruise 26 miles across the sea to Santa Catalina Island or ride an excursion train through the Redwoods.
Amtrak trains serve all major cities at least once a day and the state of California operates a network of feeder buses that connect with the trains. Greyhound and other intercity bus lines reach every corner of the state and many counties operate rural service to isolated communities on a daily or weekly basis.
Nearly every city with a population of 25,000 has a local transit system operating on weekdays, with most cities over 100,000 operating daily service. In major cities there is frequent service on major lines extending late into the evening. Service operates 24 hours a day in San Francisco and Los Angeles.
With all these different transit options, however, visitors, newcomers and even long-time residents can find the state's transit systems as difficult to navigate as the L.A. Freeways. By obtaining the California Transit Guide, you will discover how to get to hundreds of popular destinations without the hassle of driving. You will also find detailed information about all fixed-route intercity and local transit operators in California.
The guide contains many of the improvements suggested by readers of the first three editions of the California Transit Guide, including a new user-friendly format that greatly simplifies planning transit trips and a new color map section.
To whet your apetite for travel aboard California's transit systems we have assembled a few favorites for those with just a day or two to spare.
BEST DAYTRIPS AND WEEKEND ESCAPES
Great Getaways in Northern California
Napa Valley
For the most elegant in wine tasting and touring, take a ride on the Napa Valley Wine Train, served directly by Amtrak's Capitol and San Joaquin Thruway buses. The Wine Train offers year-round gourmet dining, including champagne brunch, gourmet lunch or exquisite full-course dinners. Every dining excursion is a 36 mile, 3-hour adventure through the heart of the Napa Valley Wine Country, featuring selected Napa Valley Wines.
The Napa Valley also offers superb cuisine, museums, art galleries and excellent accommodations including charming bed & breakfast inns. For the ultimate in relaxation, try Calistoga's famous hot springs and mud baths.
Napa can also be reached by Napa Valley Transit from the Vallejo Ferry Terminal or by a Red & White Fleet package tour from San Francisco's Fisherman's Wharf.
Sacramento
Amtrak's handy downtown station, served by the Capitols and long distance trains as well as San Joaquin Thruway buses, is within easy walking distance of the city's most popular attractions.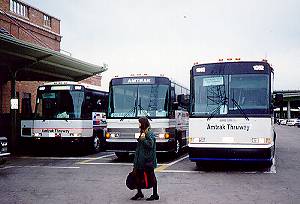 Just a few steps away is Old Sacramento, home to the California State Railroad Museum, one of the finest interpretive railroad museums in the country. The museum features more than 30 meticulously restored locomotives and cars from the beginning of railroading in the West to the present day. The 28-acre Old Sacramento State Historic Park and National Historic Landmark also features the Sacramento Discovery Museum and the largest concentration of historic buildings in California.

Take Regional Transit buses 30,31 or 32 from Amtrak to the California State Capitol, with its magnificent dome, mosaic marble floors and carved mahogany staircases. These buses also stop at Sutter's Fort State Historic Park with exhibits on life in early California.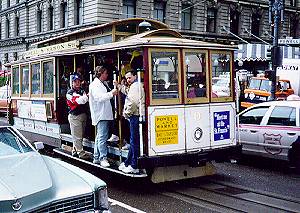 San Francisco
Amtrak's Thruway buses stop at the Ferry Building where you can make connections to points throughout America's Favorite City. Walk, or take MUNI bus 32 to Fisherman's Wharf. Enjoy the aroma of fresh baked sourdough bread, Dungeness crab and shrimp cocktail, or browse in shops on Pier 39. Catch a ferryboat for a tour of the Bay, Alcatraz, Angel Island State Park, Sausalito or Tiburon. Package ferry tours to Marine World/Africa USA, Muir Woods and Napa Valley Wine Country are also available.
Take the California Street Cable Car, located 2 blocks. from Ferry Building, to Union Square for world-class shopping or to North America's largest Chinatown.

Take the MUNI Metro N-Judah train from Embarcadero BART, located across from the Ferry Building, to 9th Ave. and Golden Gate Park with more than 1,000 acres of recreational activities including Strybing Arboretum and Botanical Gardens featuring over 6,000 species of plants and flowers. The nearby Conservatory of Flowers is a greenhouse of exotic plants from around the world and the peaceful Japanese Tea Garden features traditional Cherry blossoms, ponds and bridges.

Steinhart Aquarium features 14,000 species of fish as well as crocodiles, spiders and snakes. And a new view of the nighttime sky is yours at the Morrison Planetarium. The Asian Art Museum and the M.H. deYoung Memorial Museum offer extensive and diverse collections.

>From CalTrain, take MUNI buses 15,30 or 45 to Union Square, Chinatown, North Beach or Fisherman's Wharf. Transfer to MUNI Metro trains at Market Street BART stations.
GREAT GETAWAYS IN SOUTHERN CALIFORNIA
Los Angeles
Los Angeles Union Station, served by Amtrak's San Diegan, long-distance and Metrolink trains, is located directly across from El Pueblo de Los Angeles State Historic Park. The park features 27 historic buildings surrounding the old Plaza as well as the popular shops and sidewalk restaurants on Olvera Street.
Nearby is Chinatown, with streets and shops recalling Old China and restaurants featuring Cantonese and Szechwan cuisine. To reach Chinatown, take DASH shuttle Route B on Alameda Street, in front of Union Station.

Also nearby is Little Tokyo, home to the Japanese-American National Museum and Japanese Village Plaza, an outdoor pedestrian mall featuring a Japanese department store and over 40 shops, and restaurants. To reach Little Tokyo, take DASH shuttle Route D from the Upper Level of Union Station.

Take the Metro Red Line Subway from Union Station to Pershing Square for the Biltmore Hotel, Grand Central Market and Jewelry Mart. Continue to 7th St./Metro Center for Broadway Plaza, Seventh Marketplace and the Metro Blue Line serving Long Beach.

Take MTA buses 20,21,22,320 or 322 from the Westlake/MacArthur Red Line station to Hancock Park, home of La Brea Tar Pits, George C. Page Museum and the Los Angeles County Museum of Art.

Amtrak also offers nine different tours to help you make the most of your trip to Los Angeles. Destinations include Beverly Hills, Catalina Island Cruise, Disneyland, Knott's Berry Farm, Magic Mountain, Queen Mary, Stars Homes and Universal Studios.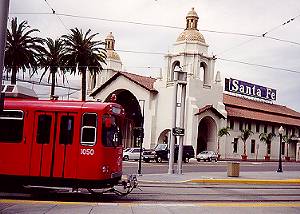 San Diego
Amtrak's San Diegans and Coaster commuter trains serve the Santa Fe Depot located in the heart of downtown San Diego. It's just a short walk to the waterfront with bay cruises, Coronado ferry, Maritime Museum and excellent seafood restaurants. Waterfront dining and shopping is also found at nearby Seaport Village.
Take the San Diego Trolley to Horton Plaza, a shopper's paradise with seven city blocks of shops, galleries, restaurants and theaters. Nearby, the historic Gaslamp Quarter is a 16-block menagerie of restored Victorians housing art galleries, antique shops, night clubs and restaurants.
If a little international flavor is on your agenda, stay on the Trolley until you reach the San Ysidro/International Border. From there, it's just a short walk to Tijuana, Mexico.
In the heart of San Diego lies beautiful Balboa Park featuring the San Diego Zoo, famed for its rare and exotic species. Nearby are nearly a dozen museums with exhibits ranging from aerospace and ancient art treasures to history and model railroads. To reach Balboa Park, take San Diego Transit (SDT) bus 7 on Broadway, across the street from the Santa Fe Depot.
Another local favorite is Sea World, a 150-acre marine park, located in Mission Bay Park. Sea World is reached by taking SDT bus 9 on Broadway, in front of the Santa Fe Depot.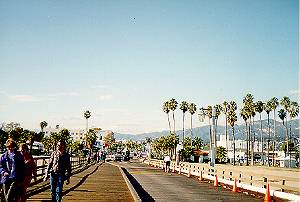 Santa Barbara
Step off Amtrak's Coast Starlight or San Diegan and into the heart Santa Barbara. Walk to Stearns Wharf, offering shops, restaurants and the Sea Center with fascinating marine life exhibits. Visit the Yacht Harbor for a scenic stroll on the breakwater, or climb aboard a boat for a shoreline tour, sport fishing or seasonal whale watching expeditions.
Take the free Downtown-Waterfront Shuttle up State Street for a look at Santa Barbara's historic architecture. The elegant County Courthouse is a Spanish-Moorish Palace with a clocktower offering sweeping views of the city. Nearby attractions include the Historical Society Museum, the Santa Barbara Museum of Art, historic adobes and "El Paseo" - full of colonial ambience. State Street features many beautiful courtyards complete with exotic plants, tiled fountains and walks surrounded by shops, galleries and restaurants.
Mission Santa Barbara, "The Queen of the Missions," established in 1786 and the nearby Museum of Natural History are favorite stops for visitors. To reach the Old Mission and Museum take Santa Barbara Metropolitan Transit District (MTD) bus 22 (operates Mon.-Fri. only) from the Santa Barbara Transit Center located behind Paseo Nuevo.
- From California By Train, Bus & Ferry by Kirk D. Schneider
Kirk D. Schneider has traveled the state by train, bus and ferry for over 15 years and is a professional transit marketing and planning consultant.
The book California By Train, Bus & Ferry (ISBN 1-879942-01-1) is available for $18.95 postpaid from California Transit Publications, P.O. Box 6427, Whittier CA 90609 or e-mail the author at 76016.41@CompuServe.com or ctp@netvoyage.net
All Rights Reserved. No part of this book may be reproduced or transmitted in any form by any means, electronic or mechanical, including photocopying and recording, or by any information storage or retrieval system, without written permission from the publisher.
Selected California place descriptions Copyright (c) California Trade and Commerce Agency, Division of Tourism. Used with permission.
---


Copyright ASSIST Information Services