---
You're Reading TravelASSIST MAGAZINE

---
FIND FUN IN THE FOUR CORNERS
Jerri Clark Kirby
---

The only place in America where four states meet is Four Corners Monument. Arizona, Colorado, New Mexico and Utah are marked by a concrete monument bearing the seal of each state. The Ute Indians own this land and, along with the help of the neighboring Hopi and Navajo peoples, sell their wares and maintain the area. Admission is $2 per car, and the area is open dawn to dusk. Spiral out to the four states and find the adventure that appeals to you.

In Arizona, the Navajo National Monument offers 13th century pueblo ruins; the visitors center exhibits Anasazi Indian artifacts, holds slide and film programs and operates summer campfire programs. Camping and picnicking are permitted April to October. Monument Valley Navajo Tribal Park offers horseback riding and four-wheel drive trips, as well as self-guided tours through Mystery Valley where isolated monoliths of red sandstone tower as high as 1,000 feet.

Take a ride on Colorado's Durango & Silverton Narrow Gauge Railroad, a coal-burning, locomotive-drawn train in continuous use since 1882. From Durango, ride up to Silverton where you can enjoy lunch, a walking tour of historic Silverton and a visit to local shops. The Sunnyside Mill & Mine, the first silver mine here, is still preserved. Want a little more adventure? Join a group of hearty adventurers for a Colorado River big water trip thru Cataract Canyon and Canyonlands National park.

The Anasazi Indians lived in ancient cliff dwellings at Mesa Verde National Park, near Cortez, Colorado. Open year-round, the park has interpretive activities, the Chapin Mesa Museum, historical exhibits and campfire programs. You will find camping, lodging and guided or self-guided tours.

The Chaco Culture National Historical Park back, in northwestern New Mexico, has 13 preserved pueblos and several thousand smaller sites of the Chaco Anasazi dated between AD 900 and 1150. Self-guiding trails explore some of the ruins; the visitors' center provides information, displays artifacts and presents short films. Northeast of the park, the town of Farmington, NM offers an outdoor musical drama, "Anasazi, the Ancient Ones," performed in a natural sandstone amphitheater on Wednesday and Saturday evenings in the summer. An optional Southwestern-styte dinner is served before each performance.

Rodeos, Farmington Trade Days, Freedom Days, the Connie Mack World Series and the San Juan Country Fair all take place here and the Totah Festival is held on Labor Day weekend. The Farmington Museum houses local-interest exhibits and includes a child's experience center.

Arches National Park, 5 miles northwest of Moab, Utah boasts the largest number of natural stone arches in the country. Redrock canyons, spires, fins and balancing rocks ensure a photographer's bliss; campfire talks, guided trips and hiking information are available at the visitors center. In Moab, sign up for a backcountry Mountain Desert Bike Tour. Pick a day-tour of 30 miles or more and transportation, meals and first aid will be provided. Several multi-day tours are offered, along with combination mountain-biking / white-water-rafting trips. Most equipment can be rented or purchased.

Each of the four states connected at the Four Corners area has myriad attractions for those traveling through. From ancient ruins to big city lights, from camping to five-star hotels, from campfire burgers to steak and lobster; you're guaranteed to find your favorite place!
---

FOUR CORNERS MONUMENT: [back]
While it's exciting to stand where four states meet, don't expect much more. There are a few crafts for sale, soda and snacks but no modern facilities. There is a photo-platform so pictures may be taken from above to show you standing at the exact place where Arizona, Colorado, New Mexico and Utah meet. When we were there, it was early afternoon, very warm and dusty. Be prepared for desert travel; have plenty of drinking water, wear a cap or hat, and don't forget the sunblock.

Further information:
Chamber of Commerce - 928 E Main St - PO Box 968 - Cortez CO 81321 - 303.565.3414
---
NAVAJO NATIONAL MONUMENT: [back]
From Kayenta, Arizona, take U.S. 160 west to State Route 564. Directions are well marked and it is easy to find the monument headquarters. Well produced slide programs and films prepare you to view two of the three Anasazi ruins. Keet Seel, the largest Anasazi ruin in Arizona, dates back to about 1250 A.D. Be warned that this is a rather strenuous 8 mile hike; horses are available but you are advised to make reservations ahead of time. A limited number of visitors are allowed to visit this ruin daily, with a ranger, and it is a full day's activity. You are requested to bring two quarts of water per person.

The Betatakin ruins may be seen across a canyon, on a self-guided, one-mile round-trip tour. A more strenuous hike of 21/2 miles, with a ranger-guide, is limited to 20 people per day. The altitude, heat and steep grade make good physical conditioning a necessity. Again, you need to carry an adequate supply of water.

A third ruin is the Inscription House, however this has been closed for its own protection.

Our visit was more enjoyable because we camped at one of the 30-odd campsites. We were exhausted from the hiking and the heat, so it was nice not to have to get right into the car and drive. There is no charge for camping and campsites are available on a first-come, first-served basis. Please note that vehicles are limited to 25' in length. There are no gas or grocery services available in the park; with the nearest being about 10 miles away. We thoroughly enjoyed the campfire programs and stayed two nights, where we were taken back in history to the Anasazi way of life.

The possession of alcoholic beverages is illegal, seat and helmet laws are enforced and you are cautioned not to leave the main road while on Indian reservations. Please note that the Navajo Reservation is also the only area in Arizona to observe daylight saving time.

Further information:
Navajoland Tourism Office - PO Box 663 - Window Rock AZ 86515 - 602.871.6659 Navajo National Monument - HC71 Box 3 - Tonalea AZ 86044 - 602.672.2366
---


MONUMENT VALLEY NAVAJO TRIBAL PARK: [back]
Movie makers have used this area for years to capture the true Navajo spirit. The buttes and weirdly shaped stone spires are repeatedly seen in movies and commercials. A 17-mile drive, on well-marked roads, covers a few of the best-known landmarks. Allow at least two hours to fully enjoy this self-guided adventure. The visitors center four miles southeast of U.S. 163, provides plentiful information on self-guiding tours. Guided tours are given daily from the center; camping, picnicking, horse-back riding and four-wheel-drive guided tours are available. Today human occupation of the land is severely limited in this hot, arid environment; yet over 100 sites and ruins, dating from 1300 A.D. and earlier, have been recorded. The buttes, mesas and canyons offer ample opportunity to explore, climb, hike and photograph. No alcoholic beverages are allowed; seat belt and helmet laws are strictly enforced; stay on the main roads.

FURTHER INFORMATION:
Monument Valley Navajo Tribal Park - PO Box 93 - Monument Valley UT 84536 - 801.727.3287
Arizona Office of Tourism 1100 West Washington - Phoenix AZ 85007 - Voice: 602.542.8687 FAX: 602.542.4068

---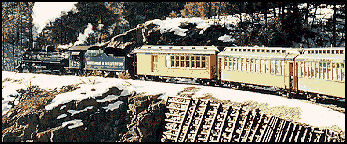 DURANGO & SILVERTON NARROW GAUGE RAILROAD: [back]
While you're waiting for the train to leave, browse the shops in Durango. A colorful Victorian theme invites you to poke around in shops offering leather, crafts, silver and any number of other items. We enjoyed frozen yogurt while the bolder folks indulged in home-made fudge. Save your best appetite, however, for lunch at one of the various restaurants in Silverton.

An avid coal-train lover, Fred Dorst, of Richmond, Virginia has come out to ride the train three times. Dorst recommends the ride for young and old alike. "I came out here as a single man and now am bringing my children to see this part of the country's past. These trains are like people; they have a personality of their own." You may opt for a seat in the open section of the train or the covered section; either way you'll see plenty as the train wheels rumble beneath your feet. The natural beauty of the wilderness provides an endless succession of photo opportunities.

The town of Silverton is delightful. There are over 50 gift shops, restaurants and hotels and opportunities to hike, fish, camp and explore in jeeps. The wooden buildings are smaller in scale than those we're used to, while a walk on wooden sidewalks reminds you of how well those who built this old mining town used the materials at hand. A sense of intimacy between the buildings and the land exists. We lunched at a restaurant owned by the descendants of immigrants from Russia. Their family has been here since the early silver mining days. On an open patio, we enjoyed authentic Russian dishes while watching hummingbirds feed along the bushes.

There are many festivals and celebrations in Silverton including a Fourth of July parade and the Kendall Mountain Run later in July. The town hosts the Great Western Rocky Mountain Brass Band Festival in August, and an antique car show. There's a classic quilt show and a Labor Day Hang-Gliding Meet in September. There's even a Yule Log Celebration come December.

Further information:
Durango & Silverton Narrow Gauge Railroad - 479 Main Avenue - Durango CO 81301 - 303.247.2733
NOTE: Allow 8 hours minimum. Departures begin about 7:30 am. Make reservations 4 to 6 weeks in advance. Adult Fare $42.70; children (5-11 yrs) $21.45
Silverton Chamber of Commerce - 414 Greene St PO Box 565 - Silverton CO 81433 - 303.387-5654 or 800.752.4494

---
COLORADO RIVER TRIPS: [back]
Three and five-day adventure trips take you thru Cataract Canyon, located on the Colorado River southwest of Moab, Utah, and traversing Canyonlands National park. I personally guarantee you'll leave the daily grind behind. This is an exhilarating experience! The first part of the trip is peaceful, relaxing filled with anticipation for the more exciting rapid waters downstream.

There is ample time for swimming, while exciting campfire talks and tales abound, particularly about the rapids at Cataract Canyon. The ride downstream, through canyons and the kind of beauty only nature can create, is filled with exciting views and sights. Tents, camping equipment, food and extremely knowledgeable and friendly guides are all provided. The raw excitement of the white water rapids must be experienced to be understood.

After our skilled guides brought us back to land at Lake Powell, we flew back to Grand Junction in a small chartered plane. From land, water and the air, if you are a white water enthusiast, this is an adventure you must experience!

FURTHER INFORMATION:
Adventure Bound Inc - 2392 H Road - Grand Junction CO 81505 - 800.423.4668
Sedona Bed and Breakfasts

---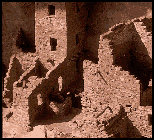 MESA VERDE NATIONAL PARK: [back]
This national park contains the largest cliff dwelling and is the biggest archaeological preserve in the nation. It was named "Green Table" by passing Spanish explorers, upon seeing the land rise abruptly from the valleys, its flat top trimmed with juniper and pinion trees. The area covers about 80 square miles. The entrance is about 10 miles east of Cortez and 36 miles west of Durango. While driving the 15 or so miles to the Far View Visitor Center, we saw mule deer, wild turkeys and ground squirrels. The visitors center is full of information. Because of the popularity of Cliff Palace and Balcony House, tickets for these sites need to be picked up here.

Spruce Tree House is a short drive from the center to Chapin Mesa. Sheltered in a stoney ledge, this group of cube-shaped houses were fashioned from sandstone blocks and had rectangular windows. A KIVA reconstruction represents the round, underground religious and ceremonial room of the Anasazi. A ladder allows access to a room through a large, square opening in the roof. A fire pit is in the middle of the floor. To the side, is a SIPAPU, a symbolic doorway to the underworld in ceremonial use during pre-Columbian times.

I recommend you arrive early; we arrived at 8:00 am and by the time we left Spruce Tree House 2 hours later, it was filled with tourists. The rangers give great, informative guided tours but, with the arrival of the teeming masses, it gets harder to understand what they're saying.

Cliff Palace is the largest of the cliff dwellings with 217 rooms and 23 kivas. It was a small city. Toeholds were pointed out by park rangers; amazingly, ancient toe impressions are still visible. Of course, there's no touching allowed. The Anasazi used these toe-holes to climb vertical stone walls of incredible heights. From Cliff Palace, you can take Ruins Road to view six centuries of Anasazi culture. Their first dwellings were small pithouses, partly above, and partly below ground. From there, they went in two directions: kivas totally below ground and pueblos, stone houses, above ground.

Balcony House has only one way in: a 32 foot ladder. Take my advice and leave most of your camera gear with the ranger at the bottom of the ladder. A tunnel connects two edifices and you have to crawl through. You leave the other side by using enlarged toe-holds and grasping a chain, (very tightly, I might add), to get down.

Mesa Verde has two impenetrable secrets: Why did the Anasazi move from the mesa top to the gorge walls around 1200 A.D. and why did they abandon the area altogether less than 100 years later? While uncertain, two theories are colder climate and pressure from enemies. We'll probably never know.

You can camp in the park at Morefield Campground ($8-$15.50); you can reserve a room at the Far View Lodge ($77-$94). Or you can stay in nearby Durango or Cortez. Wherever you sleep, do plan for two or three days to get the full impact of this disappeared civilization; it is fascinating.

FURTHER INFORMATION:
Mesa Verde National Park - Mesa Verde CO 81330 - 970.529.4475
Durango Chamber of Commerce PO Box 2587RW - Durango CO 81301 - 800.525.8855
NOTE: Park Entry Fee $5.00; park tours (from information Center in the park) $1.00 Per person
Lodging (April-October):
ARA Far View Lodge - Mesa Verde National Park Box 277 - Mancos CO 81328 - 970.529.4421

---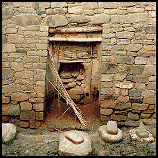 CHACO CULTURE NATIONAL HISTORICAL PARK: [back]
It takes some dedicated driving to get here; the last 26 miles going in can be extremely dusty or muddy; check the weather before you go and fill up your gas tank. The dirt road is rough and towing trailers longer than 30 feet is not advised. While there is a fine visitors center and a campground, there is no gas and there are no services. The park, also known as Chaco Canyon, has Anasazi ruins dating back to A.D. 900. Self-guided tours allow you to explore seven of the park's ruins, including Pueblo Bonito, Pueblo del Arroyo, Casa Rinconada and a few village sites. An hour minimum per trail is recommended. You can explore other trails that lead into back country areas, but you must obtain free permits at the visitors center. There is a museum here which depicts the history of the canyon and the cultures who developed it. Displays include artifacts of the Pueblo, Navajo and other tribes, as well as various forms of pottery. The rangers conduct tours daily and there are informative campfire talks at the campground at night. It was fascinating to learn that the Chacoans developed a vast road system. They had neither horses nor wheels and yet their roads were 20-30 feet wide!

FURTHER INFORMATION:
Park Information - (505) 988-6727 or (505) 988-6716; New Mexico Tourism - PO Box 20003 - Santa Fe NM 87503 - 505.827.7336 800.545.2040
---
FARMINGTON, NM: [back]
Farmington connects the ancient and modern Indian worlds. You find modern motels, restaurants and a population of about 35,000 people. You can golf, ski, wind surf, fish or envelope yourself in Indian history and exploration. We particularly enjoyed the outdoor showing of "Anasazi, the Ancient Ones." We took advantage of a pre-show dinner of beef brisket, (plain or with barbecue sauce), beans, rice, potato salad or cole slaw, soft drinks, iced tea or coffee. Fruit cobblers of different types are offered for dessert. Total cost, per adult, for the show and the meal is $17.00; seniors $15.00 and kids $11.00. Cost of the show only, is $10.00 adult, $8.00 senior and $5.00 kids. Group rates are available. The 2-hour drama is presented in a well-built amphitheater and was practically sold out when we were there in late July. This presentation is well worth the trip and the optional meal made it perfect!

FURTHER INFORMATION:
Chamber of Commerce - 203 W Main St - Farmington NM 87401 - 505.325.0279 800.448.1240
Visitor's Bureau - 203 W Main Suite 401 - Farmington NM 87401 - 505.326.3842 800.242.4282

---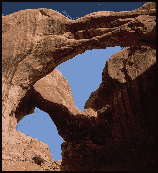 ARCHES NATIONAL PARK: [back]
The largest concentration in the world of natural stone arches is found here. In a 73,000 acre area, there are over 2,000 arches. A 40-mile round trip over paved roads leads to sights such as Balanced Rock, Skyline Arch, Double Arch and the Fiery Furnace. You can do this on your own; informative markers are placed throughout the park. Guided tours can be arranged at the visitors center, open year-round, as is the campground. Entrance fee to the park is $4.00 per vehicle or $2 per person (on bikes or cycles). Be sure to have good sun protection, a hat, sunglasses and water. Bring plenty of film - you'll want a lot of photos.

Further information:
Arches National Park - Box 907 - Moab UT 84532 - 801.259.8161
Moab Grand County Travel Council - PO Box AA93 - Moab UT 84532 - 800.635.6622

---
MOUNTAIN / DESERT BIKE TOUR: [back]
The daily tour, which we took, includes a shuttle to and from the tour location. We went to the top of the Island in the Sky District of Canyonlands National park. The sometimes difficult trail descends down the Shafer Trail to the White Rim, passing through rock formations down to the Colorado River. The ride was thirty miles. It was hot and we were grateful for the lunch, plus the high energy snacks provided by the second guide in the back-up four-wheel jeep that is always just a shout away. Cellular telephones assure contact with any kind of support needed. You absolutely must be in shape for this ride. Danny Berry, of Perth, Australia is an avid mountain biker and he declared this tour "as invigorating as any I've done on five continents."

Also offered are 2 day / 1 night, to 5 day / 4 night trips, combining camping and riding. The ultimate adventure here, mountain bike riding combined with white water rafting, is also available. Equipment can be rented or you can bring your own bike; parts are available and there are maps if you want to do it on your own. Long-term parking is available. Whatever your preference, You will know you've been there. It's a wonderful adventure vacation!

FURTHER INFORMATION: