Click here for www.PriceLine.com
---
You're Reading TravelASSIST MAGAZINE

---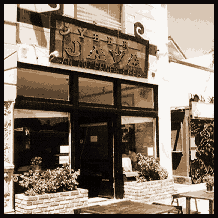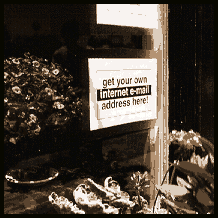 CYBER JAVA - An Internet Cafe, Venice, CA
---
Larry Benedict - Editor, TravelASSIST MAGAZINE

---
The first thing you notice about Cyber Java is the real sea air wafting through the open front door as patrons inside "surf" the net.
TravelASSIST, attracted by the idea of a social atmosphere growing out of a solitary activity, decided to try writing an article as a real-time test of this brand new concept.
So here we are, doing what radio and TV stations call a "NEMO" (Not Eminating from Main Office), and loving every minute of it. The text is being entered live into our Web server via a telnet session, photos will be scanned in and uploaded later.
Rom Taganas Agustin is the owner of this adventure into cyberspace and in just nine days has had his computer cafe operating at full blast. Rom explained his philiosophy and vision in taking a financial leap into cyberspace.
"I was working as a consultant for an Oil Company and had just spent 4 years in Singapore. I wanted to take some time off and opening a Cyber Cafe seemed like the right thing to do. I see the Internet as something beyond a trend, it is a revolution not in terms of a business interface but as a communication medium."
It sure is. There are regulars dropping in here after only nine days of operation. They come in the morning to read their e-mail. They come in the evening to meet in common interest groups and participate in IRC sessions. Many have their own Home Pages and this is a place they can show them off.
Two folks who caught our attention were studying a Mac screen. They were Dennis Wilen, a professional Web Page creator and Janet, whose home page, Janet's Planet, features a fascinating anthology of African musicians. Dennis also has his own home page, and has recently finished a site for Harry Sheer, the comedian/humorist and the voice of a wide range of "The Simpson's" character.
This was their first visit to the Cyber Java cafe, (although they looked right at home to us). They had been conversing on the net when they dicovered that they both lived in Venice so they decided to head over to Cyber Java and check it out the cafe.
Behind the cafe, a garden area is being wired for laptop users. Phone lines and power outlets will be stratigically placed in the foliage. The perfect environment to inspire the writers, authors, and others who make Venice Beach their home. Writing no longer has to be a solitary job! (Janet still seated at the MAC next to me, just said that before Cyber Java the area in the back used to be called "The Sculpture Garden").
Rom has great plans for the future. Upstairs will be conference rooms for seminars and business conferences. Plans are being made to network with other Cyber Cafes in Seattle, SanFranciso, New York and "Cyberia" in London.
No matter how fast the net connection is, great coffee is an esential ingredient to any Internet experience. And Cyber Java serves up the finest. In BIG cups too! When the staff isn't busy serving java, they're available with advice for net newbies.
Cyber Java is open 9 am to 2 am but has such a large late night following that there are plans to go 24 hours. It's located at 1029 Abbot Kinney Boulevard, one block east of Main Street and five minutes from the Marina Del Rey Freeway.
E-mail: rom@primenet.com
Home-page: http://www.cyberjava.com
Voice Mail (310) 581-1300 - Fax: (310) 581-1300.
---


Copyright ASSIST Information Services