Click here for www.PriceLine.com
---
You're Reading TravelASSIST MAGAZINE

---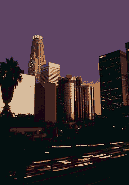 Greater Los Angeles Highs and Lows
By Richard Carroll - Photography: Donna Carroll
---
Reload this page with three 60k images.
---
Greater Los Angeles, the entertainment capital of the world, including Los Angeles and Orange Counties, is where talent is commemorated and spirits elevated. The neighborhoods of Southern California remain on the cutting-edge as an innovative and viable lifestyle destination.

One of the world's largest cities for land area, with 463 square miles, Los Angeles has ten major shopping districts reflecting an eclectic variety of tastes and is home to a rich and fascinating ethnic mix. Even with a lifetime to spend, most Los Angeleans fail to see everything their city has to offer. For tourists with somewhat less time to devote to the city, here are some high and a coupler of low spots to help make the most of it.

LOS ANGELES "MUST-SEE'S"
DISNEYLAND, UNIVERSAL STUDIOS HOLLYWOOD, KNOTT'S BERRY FARM and SIX FLAGS MAGIC MOUNTAIN are among the glitzy showcase attractions that are long-standing and timeless.

DOWNTOWN PRESENTS ANOTHER side of Los Angeles to the visitor. An example is the exquisite MUSIC CENTER FOR THE PERFORMING ARTS, a crown jewel of Southern California. The Music Center is rated as one of the finest in America with three theaters providing year-round entertainment from the symphony and ballet, to top Broadway shows. Call (213) 972-7211 for public tour information and a schedule of performances.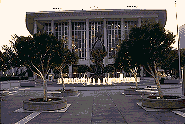 ---
MELROSE AVENUE from La Brea to Doheny Drive, anchored by the city of West Los Angeles, is a crazy mix of shops, restaurants and galleries with creative names to match. The Melrose neighborhood is an astonishing collection of flashy neon, tacky fashionable, punky-trendsetting, upscale chi-chi and wonderfully original specialty boutiques found no other place in the world. The notion is; "If you can't find it on Melrose, it hasn't been thought of yet."

The HUNTINGTON LIBRARY, ART COLLECTIONS AND BOTANICAL GARDENS, is unmatched in elegance. Located in San Marino, the 207-acre complex of sweeping gardens surrounds the stunning Library and Gallery. The Library collection has 2.2 million manuscripts and 336,000 rare books. The art collection of British late-18th-century and early-19-century is one of the most comprehensive outside London. Allow five hours; if you are a garden buff, set aside the day. (818) 405-2141.

The little known WEST HOLLYWOOD COFFEE HOUSES on Santa Monica Boulevard, such as Little Frida's, Buzz, Powwow and "6" Gallery are eclectic, innovative and a fascinating place to sit. You will hear poetry and enjoy art. Usually overlooked by visitors, the FOUR OAKS Restaurant at 2181 N. Beverly Glen Boulevard offers a delightful menu of American cuisine, healthfully-inspired in a French auberge. Call for directions. (310) 470-2265.

The TWENTY SIX MILE BIKE PATH for cyclers, rollerbladers and joggers stretches like a silk ribbon along the Pacific Ocean, past zany beach scenes and more sedate ocean fronts. From Malibu it forms an unbroken line south through Santa Monica to Redondo Beach. Begin the ride dead center in Santa Monica at the pier. Bicycle rentals are available.

Santa Monica's MUSEUM OF FLYING though highly acclaimed is difficult to find for first-time visitors, a dazzling high-tech, three level museum is resplendent with brightly painted vintage aircraft that you feel the urge to touch, or even clamber into the cockpits and pretend. Call for directions. (310) 392-8822.

The J. PAUL GETTY MUSEUM sits on a cliff-side in Malibu. This treasure, unmatched in financial power, is preeminent in the field of French decorative arts of the 17th and 18th centuries, Medieval and Renaissance manuscripts, and European paintings. Getty's Roman and Greek antiquities are among the finest collections in the United States. Parking reservations are required; allow a half day. Call (310) 459-8402.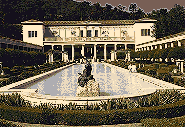 ---
The award-winning GENE AUTRY WESTERN HERITAGE MUSEUM in Griffith Park is both notable and unusual, featuring the cultural and historical legacy of America's Western heritage. The HUNTINGTON BEACH INTERNATIONAL SURFING MUSEUM offers the history of surfing from 1902 to the present, and Pasadena's PACIFIC ASIA MUSEUM housed in a rare example of Chinese palace style architecture.

Located at the western end of the town, OLD PASADENA, is an enclave of restored buildings and warehouses listed on the National Register of Historic Places. This easily accessible district is nevertheless is brick-to-brick with one-of-a-kind shops, 88 or so restaurants, galleries, jazz clubs and street entertainers.

The NORTON SIMON MUSEUM OF ART, just a few blocks to the west, has 30 galleries with European paintings and sculptures from the early Renaissance period to the 20th century. Rodin, Van Gogh, Picasso, Degas, Rembrandt and Bonnard, will make your day.

ON A LOWER NOTE:
DOWNTOWN HOLLYWOOD needs an overhaul. Despite the best efforts of revitalization groups the town remains dirty, tacky and a haven for street people. The celebrities departed long ago to West Los Angeles, Beverly Hills and Santa Monica along with the restaurants, fine shops and ritzy cars.

Still, most first-time tourists must visit Hollywood Boulevard and MANN'S CHINESE THEATRE, one of Los Angeles' most famous buildings. In the fore-court cement of Mann's Chinese are the autographs, handprints and footprints of more than 180 motion picture stars while on the sidewalk passing in front, the embedded stars of entertainment industry celebrities stretch out in both directions. Its a long walk to view them all. While the Brown Derby on Vine Street is no more, MUSSO & FRANKS, Hollywood's oldest celebrity restaurant (doors opened in 1919) is still going strong, just a fews blocks east of Mann Chinese and on the same side of the street.

FREEWAYS AND PUBLIC TRANSPORTATION. Public transportation is not convenient for tourism. Arrange for hotel pickup upon your arrival at Los Angeles International Airport, and book a car rental at your hotel.

TIP -- Avoid the freeways during rush hours which are roughly from 7:30 a.m. to 9:30 a.m. and 4 p.m. to 7 p.m. Plan an itinerary on the west side of town such as the Getty Museum and Santa Monica. When visiting Orange County, relocate by booking a hotel in the area. Driving the freeways to-and-fro will squander valuable holiday time and age you five years.

For information contact the Los Angeles Convention & Visitors Bureau, (213) 624-7300; Santa Monica Visitor Center, (310) 393-7593; Pasadena Convention & Visitors Bureau, (818) 795-9311.
---
Photos Copyright Donna Carroll
---
---


Copyright ASSIST Information Services