Click here for www.PriceLine.com
---
You're Reading TravelASSIST MAGAZINE

---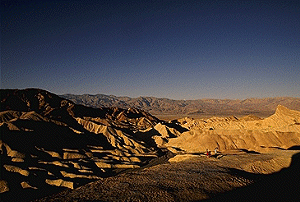 Death Valley Drink
By Richard Carroll
Photography: Donna Carroll

---
Death Valley, heat waves shimmering surrealistically under a deep blue sky, is eerie and foreboding during the summer months. The temperature gleefully rockets off the scale into a boiling blanket of heat waves that, day or night, are unrelenting.

To sweat in a cold shower is as common as ice tea with melted ice cubes. If nature ever ruled, this is it. The Badlands, aptly named, is the lowest and hottest place in the United States. A contained environment in terms of human activity, the park dictates the guidelines of life and behavior, past and present.

A "desert rat" who has lived in Death Valley most of his life quipped, "Nothin' to breath but hot air most of the year, but ya can't help liken the place because it's always a challenge. If ya make a mistake out here it could be taps, yet it's so deceivingly beautiful."

Water in these parts, elusive and cunning, loves to be unreliable, defective and bitterly delusive. Many Old Timers who made the mistake of traversing the great valley would have traded their wives, mules and boots for a gulp of untainted water.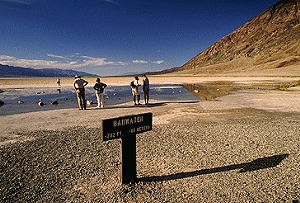 ---
In perfect character, in the heart of Death Valley, Bad Water, the lowest point in the Western Hemisphere, is just that; big, bad and bawdy. A small sign 282 feet high on a nearby volcanic facing reads "Sea Level."

At first glance, like a Lady of the Night, expectations are high and genes are tingling, but up close you'll get stung where it hurts if you dip your parched mouth into the appealing lake of rancid salt water.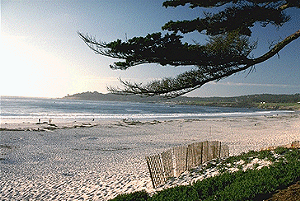 ---
The valley floor averages only an inch or two of rain a year yet, incredibly, the Shoshone Indians survived here for hundreds of years on mesquite beans, pine nuts and small game.

Today, during the hell days of summer, Europeans flock to 3,000-square-mile Death Valley, the largest national park in the continental United States, to bake like a lizard's claw, flirt with danger, sniff Bad Water, see the museums and kick around for mesquite beans and pine nuts while chewing on cheese pizzas.

If lucky, they avoid having to be rescued or resuscitated like a few hapless souls each summer who, without a road map or a brain, wander thoughtlessly off the road.

Tourists lodge at the rustic Furnace Creek Ranch, open year-round, sear their skin to a brilliant red and return home with a glorious status symbol that stands out in sun-starved Scandinavia as a 5-star beauty of a sunburn.

GETTING THERE
The ideal time to visit is from October to mid-May when there are warm sunny days and cool evenings, and the historic Furnace Creek Inn, with it's cooling swimming pool, is open. For lodging information and reservations, call (619) 786-2345. For information on hiking, RV campgrounds, backcountry maps and trails, contact the National Park Service at (619) 786-2331.
---
Photos Copyright Donna Carroll
---
---


Copyright ASSIST Information Services