Click here for www.PriceLine.com
---
You're Reading TravelASSIST MAGAZINE

---
Rafting California
By Richard Carroll / Photography: Donna Carroll
---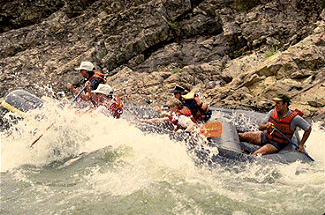 California, with a whopping 20 or so river rafting runs, offers some of the best chills and thrills in the West. Choose from tempestuous and turbulent excursions like the first spin of a roller-coaster ride, to peaceful and serene floats where nature charms the entire family.
Personable Kay Metherell, General Manager of O.A.R.S., a California-based rafting company says, "You'll never have more fun than when on a guided rafting trip. The majestic vistas are a sweet mix of tranquility spiced with wholesome adventure, and the memories are forever. On the lower section of the Klamath River in the north of the state, we host children from age four, complete with lunch, animal watching, story telling and more laughs than a circus. The river is gentle, gorgeous and remote."
Floats of short duration are ideal for first-time rafters, while repeaters can enjoy longer outings where you bed down along the river under the stars and awake to sizzling pancakes that will never taste better.
High-water enthusiasts should book early in the season, which generally runs from April to October. Each river and specific rafting trip has its own personality and rating dictated by the size or difficulty of the rapids or whitewater. Class I is flat water; Class II, light rapids; Class III, moderate whitewater with some difficulty; Class IV, advanced whitewater; Class V, expert level; Class VI is generally unraftable.
---
NORTH OF REDDING
The Upper Sacramento begins in Siskiyou County, at the west base of Mount Shasta, where it bursts out of the ground. Its pure, cold glacier water teems with trout and salmon. A one-day raft trip through the Sacramento Canyon has more than 45 rapids in a 36-foot descent. From Dunsmuir, the river is continuous "pool and drop" with oar and paddle trips available.
Near the Oregon border, the Upper Klamath sparkles with 17 miles of Class IV whitewater through rugged volcanic canyons. Best high-water is July through mid-September. The lesser-known Smith River offers Class IV rafting through steep granite canyons, but can dry up in late spring and summer.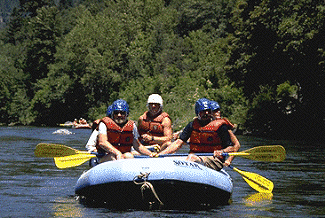 For a two or three-day whitewater dazzler, from April to July, check out the 22-mile-long Class V Cal-Salmon River run. Rampaging rapids and a narrow granite gorge tab the minimum age at 16. The campsites are remote and adventurous.
Mike Doyle, owner of Beyond Limits Adventures says, "The Trinity River off Highway 299, about 60 miles northwest of Redding through the sheer-sided Burnt Ranch Gorge, is among North America's best Class V river runs. The water flow runs throughout the summer and you have views of the Trinity Alps and wild backcountry. Rafters must be 18 years old, exceptionally fit, and pass a swimming test. I have found that while some folks raft for cutting-edge whitewater, others love the wild-flowers, birds and geography."
---
NORTHEAST OF SACRAMENTO
For springtime runs powered by the Sierra snowpack melt, Doyle suggests the North Fork of the Yuba River, west of Lake Tahoe, three to five hours from San Francisco. "The Class IV continuous whitewater run drops into a forested canyon dappled with ever-changing shadows and pure beauty," Doyle says. Minimum age is 14.
The Upper North Fork of the Yuba, heavily wooded, lush and rated Class IV Advanced, is a challenge for strong paddlers, age 16 and up. April to June the water is fast and furious as spine- tingling rapids rip through deep and narrow Moss Canyon, followed by wide-open Rossasco Ravine, studded with house-size boulders.
Another Class IV plus run is the North Fork of the American River, with five miles of white-knuckle water and 4.5 miles of moderate whitewater on a State-designated, free-flowing, wild and scenic river. The Middle Fork of the American, rated Class III-IV, is interspersed with super-charged rapids and quiet meandering stretches featuring a canyon and historic gold country. Portage around a 30-foot waterfall and wilderness camping make this popular with repeat rafters.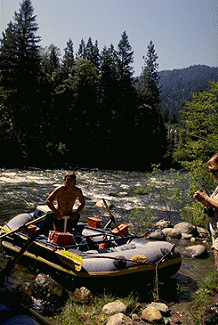 California's most popular river run is the Class III South Fork of the American, a one-hour drive east of Sacramento. Perfect for first-timers, families and those who have rafted before, the river features moderate whitewater, classic gold country scenery, scrub pines, granite boulders and clear water. The Beyond Limits family campground, adjacent to the river in Coloma, is a convenient overnighter for rafters.
If time is short, consider the one-day, nine-mile run on the Class III Stanislaus River. The launch site is about a two-hour drive east from San Francisco and just north of Yosemite National Park. The fast moving run which cuts through a massive limestone canyon, has memorable rapids. Recommended for both first-timers and veterans, the minimum age is seven.

---
CENTRAL CALIFORNIA
According to Metherell, the Tuolumne River, a one-hour drive northwest of Yosemite National Park, is the champagne of California whitewater and a true wilderness experience. A Class IV plus, the run gushes 18-miles out of the park into a remote boulder-strewn canyon, rife with wild rapids, into a rugged back-country that photographers love to capture.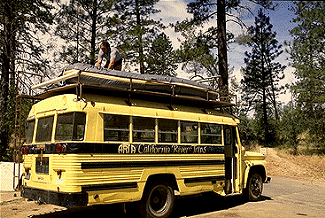 "The Merced River," explains Doyle, "is the best one-day, Class IV spring run in California. We have big, wet waves and great scenery. The Merced is a big step up from the American and the Stanislaus. The river flows out of Yosemite Valley and we begin or put-in near El Portal."
Kings River, above Fresno, noted for its big water volume from mid-May into June, drops to a Class III during the summer as it churns through a wide, oak-lined canyon. The one-day, 10-mile run on the Class III plus Upper Kern River, northeast of Bakersfield in the southern Sierra, features a series of back-to-back rapids on one of California's fastest moving rivers. This run is best from May into July. The Lower Kern, a thrill a minute, twists and drops through a gorge lined with boulders. The 18-mile run is a two-day trip designed for ages nine and up, May into September.
CONTACTS: Beyond Limits Adventures at (800) 234-RAFT, California; (209) 869-6060 USA; O.A.R.S. at (800) 446-RAFT; (209) 736-2924.
---
Richard Carroll is a nationally known travel journalist based in Shadow Hills, California. Photos Copyright Donna Carroll
---


Copyright ASSIST Information Services