Click here for www.PriceLine.com
---
You're Reading TravelASSIST MAGAZINE

---
Pride of Aloha Review
Bruce Murray - July, 04, 2004 Honolulu, Hawaii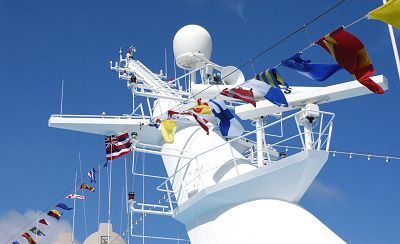 The Pride of Aloha, from Norwegian Cruise Lines new subsidiary NCL America, entered regular service in the Hawaiian Island on July 4th, 2004. I was able to board the Pride on July 3rd and experience the ship during a one nigh charitable fundraiser cruise.
This is not a new ship, it is actually the Norwegian Sky. The Sky has been known as having small cabins, and the same problems with Freestyle dining that many find difficult to understand and unfair. But this ship is a big improvement over the Norwegian Star that NCL used to operate in the islands.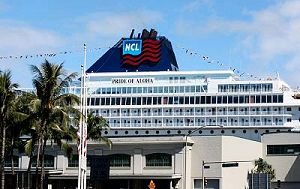 In general I enjoyed our short cruise on the Pride of Aloha.
---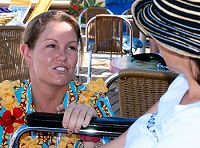 STAFF: The ship is an American Flagged vessel and is staffed by US Citizens. The press here in Honolulu has mentioned that NCL America is having staffing problems and has been unable to run the ship with a full staff. Most of the individuals I had contact with were very nice, but it seemed that they were in short supply. I've sailed the Hawaiian Islands in the past on a US Staffed ship and found the service only average. I don't think US workers bring with them the level of service a foreign staff would. It takes a lot of training and high level of pay to keep excellent US staff, and I don't think NCLA will be making that kind of commitment/investment to customer service.
---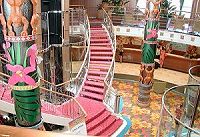 SHIP: I like ships this size. The Pride is only 853 feet in length, short by today's mega ship standards. But it allows you to have easy access to the ships resources. On larger ships it can be a real hike to get from one end of the ship to the other. The public areas of the ship are nicely decorated and have very strong Hawaiian themes. Most of the ships decor has a Hawaii goes Las Vegas feel, except for the lovely wood-paneled Captain's Cook's Bar and Cigar Club. Also several of the specialty restaurants have very attractive decors.
---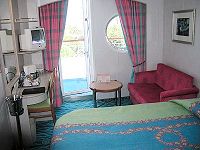 CABINS: The largest popular balcony cabins are small, but usable for a couple. Add another passenger or two and your going to have to walk over beds to get to the bathroom at night. Note: Having a balcony allows you to escape the crowded public areas and enjoy the Hawaiian weather.
---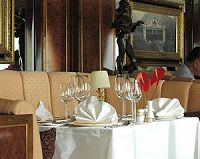 FOOD: I haven't sampled all the meals from a seven day cruise, but rice is a staple here on the Islands, and, NCL knew that during the charity cruise out of Honolulu the ship would be packed with locals, but rice was nowhere to be found. You can't experience the "taste" of Hawaii without rice??!! The biggest hang-up though is the "Freestyle" dining options on the ship. Most passengers I have spoken to about this NCL concept did not understand it when they selected their cruise. Even after boarding it seems to take some passengers several days to understand this option available on the Pride of Aloha and other NCL ships.
---
FREESTYLE CRUISING: Read more about Freestyle Cruising
---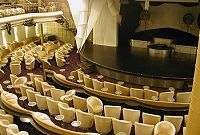 ENTERTAINMENT: Again I was only on the ship one night and found the main stage show to be only average, but the smaller shows and musicians in the bars and lounges to be top rate. The comedian they had in the Elvis movie inspired "Blue Hawaii" lounge was great.
---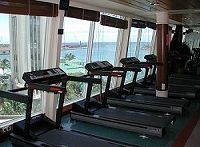 FITNESS / SPA: The Pride of Aloha has an extensive and large fitness area. The Spa is lovely, but my Wife had a message and said service was spotty.
---
EXTRA FEES: Each passenger is hit with a $10 per-person per-day nonnegotiable fee. ($5 for children 3-12). This fee is NOT a tip, and is added to your stateroom charge at the end of your cruise. This really bugs me... Lots of Pride passengers I've spoken to have been upset by this charge. It isn't unlike the "Resort Fee" you sometimes get hit with a hotels and resorts. If it is mandatory then why not build it into the original price of the cruise! Also the Freestyle Dining option can result in extra charges, see above.
---
INTERNET: In this busy world we live in it is sometimes hard to leave our lives behind for 7 days. I suggest you make every attempt at doing so, but if you must, an internet cafe area is available. Wireless access is also available in many public areas.
---
ITINERARY: Unable to comment. But the Pride of Aloha offers much more time in ports than did the previous ship that served the islands, the Norwegian STAR. Several passengers I've spoken to rented cars and explored the various islands on their own. Expect locals to be friendly and helpful.
---
Southeast Florida Better Business Bureau ranking of NCL as of 02/11/2005: "Based on BBB files, this company has an unsatisfactory record with the Bureau, due to one or more unresolved complaints." Read the latest report at: Norwegian Cruise Line
---
PRICE: This is not a luxury ship But you may find yourself paying a "luxury" price, especially if your in a nicer BB Category cabin at over $5,400 for two. Or over $3,400 for the lowest category cabin. At those prices I would wait till the newly constructed Pride of America comes online and begins cruising the Islands in Summer of 2005.
---
Other Pride of Aloha links: Photos - Review
---
---