Click here for www.PriceLine.com
---
You're Reading TravelASSIST MAGAZINE

---
A Revived Times Square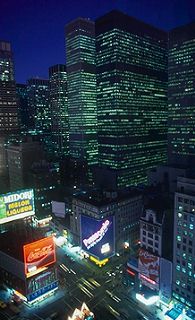 In a change that seems indeed miraculous, Times Square and its neighboring 42nd Street have become a destination to take the family, including the kids. After decades as a seedy area filled with peep shows and undesirables, 42nd Street has made a comeback. The Times Square Business Improvement District (BID) has just leased the New Amsterdam Theater on 42nd Street to Disney who plans to run family movies in the renovated theater and open a huge Disney shop next door.
Times Square itself has enjoyed a tremendous re-birth with businesses flooding into the reclaimed area. The recently opened flagship Virgin Records store attracts crowds to its multimedia emporium where music, all types of videos, miles of CDís, computer software, books, a cafe, several movie theaters and even a travel agency are all found at this one location.
The first of the new wave to arrive was the 1,300 room Marriott Marquis hotel. It has continued to benefit from the businesses that followed including the sports themed All-Star Cafe by the creators of Planet Hollywood restaurants. MTV has endorsed the area by moving its offices to Times Square and a myriad of other new businesses, shops and restaurants are all contributing to the revitalization.
The Crossroads of the World, 42nd Street, is once again lit up and street sweeping takes place 18 hours a day while public safety officers patrol the 30 block area from 10 am to midnight. It may seem like a miracle to some, and indeed it is, but it did not happen without effort. The program was begun almost thirty years ago when the BID was first empowered to begin condemning buildings and buying them from their owners at fair market value.
All of this sets the stage for a special celebration now being planned by BID who is also responsible for the New Years Eve celebrations. It is working on an unprecedented extravaganza to usher in the Millennium at its sparkling new Times Square. Photo © Lawrence Migdale, PNI
---


Copyright ASSIST Information Services