Click here for www.PriceLine.com
---
You're Reading TravelASSIST MAGAZINE

---
Times They Are a-Changin' on Anguilla
and so are the rates!
By Larry Benedict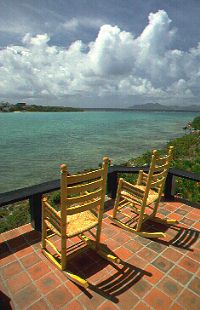 Since its discovery as a tourist destination in the 1970's Anguilla has been known for many wonderful things but never for bargains. The tiny airport, too small for jets, prevented the usual tourist influx and Anguilla remained a secluded haven for the rich and famous. Among its frequent visitors are Demi Moore, Oprah Winfrey, Janet Jackson and Robert De Niro.

With the approval of a new airport that will have a six thousand foot runway, large enough to accommodate jet traffic to and from the US as well as other places, hotels on the island are changing their rate structures and this is where the bargains come in. One in particular caught our attention.

Sonesta International Hotels Corp. recently purchased the refined Casablanca Resort, a Moorish-style complex constructed of hand-crafted Moroccan tiles, and decorated with intricate archways and fountains. Rooms at the Casablanca went for an impressive $800 a night, but from now till Dec 23rd, Sonesta is offering a "Discover Anguilla Getaway" for just $99 a night at the swank hotel, now renamed the Sonesta Beach Resort Anguilla. Their published room rates for the same period are $170 to $250 and winter rates in the new year will rise to $290 reaching $390 for a studio suite. Now is definitely the time to get away to the Sonesta Beach Resort and discover Anguilla!

The airport is not scheduled to open till 1999 so one should keep an eye open for further Anguillan bargains as the island prepares accommodations and facilities for the expected change of pace. The Hon. Hubert Hughes, chief minister and minister of tourism for Anguilla assures everyone that the government will stay with its policy of controlled development but there will obviously be more tourism tied to a moderation in rates.

Those who head for Anguilla will find a quiet island with little nightlife, unspoiled beaches, plenty of seclusion and some of the finest gourmet restaurants anywhere. Visitors in search of more adventuresome entertainment can easily take the 15 minute ferry ride to St. Maarten/St. Martin.

Anguilla's quiet conservatism discourages bathing suits being worn in town and there are no nude beaches on the island. Visitors will find a positive interaction between residents and tourists due to the island's current obscurity as a destination.

If you're looking for unspoiled beaches, quiet seclusion and gourmet food coupled with exclusive accommodations at bargain prices, the remainder of 1996 is definitely the time to visit Anguilla.

You can currently reach Anguilla on American Eagle via San Juan or from St. Maarten by Tyden Air or ferry.
---
Photo © Randy Wells, PNI





Copyright ASSIST Information Services