Click here for www.PriceLine.com
---
You're Reading TravelASSIST MAGAZINE

---
Cruising China's Yangtze River
Richard Carroll / Photography: Donna Carroll
---
The mighty Yangtze river and its Three Gorges has long been one of Asia's most revered and dramatic nature attractions.

But, regardless of the beauty, the controversial Three Gorges Dam, which could be known as the Sanxia Dam, is under 24-hour construction at Xiling Gorge and Sandouping. The dam will increase the water level hundreds of meters while displacing 1.4 million Chinese, including complete cities, temples, tombs and a landscape that is irreplaceable.
TIME IS OF THE ESSENCE
Though the dam is tagged as a 17-year completion project, the time to cruise the Yangtze for a final full-view look at the gorges is within the next five years before the water level begins to rise.
The upside of the soon-to-be largest dam in the world is that power will be generated, mercifully improving air quality, flooding will be controlled, and a new supply of water will be available for northern farmlands.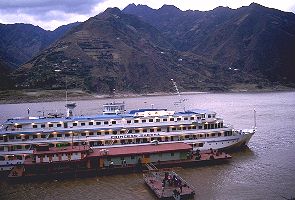 After a one-day stop in Beijing, we head for Chongqing (formerly Chungking) and the fabled Yangtze River for a four-day cruise on Regal China Cruises from Chongqing to Wuhan.
The exotic Chongqing harbor is something you might see in an old Hollywood black and white movie, with more character than you can digest. It's not difficult to imagine Bogart, cigarette dangling from his lips, standing in the shadows in his trench coat surveying the scene.
Thick fog covers the river-front buildings, swirling over fast-moving beige-colored water that looks as if it could catch fire at any moment.
It is controlled chaos as hundreds of Chinese men converge on the passengers, wanting to help with luggage. We walk down steep stairs, across the bow of an over-crowded ferry boat with small dank cubicles which is heading to the City of Ghosts, and board a hydrofoil where we zip down river to the PRINCESS SHEENA.
We are on a magic cloud as we sail the longest river system in China, cutting through Central China roughly from east to west from the Tibetan highlands, 3,434 miles, where it tumbles into the East China Sea.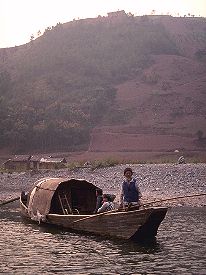 The river cruise along a major waterway filled with exotic old boats, some unchanged in design from the 15th century, is the civilized, trouble-free way to experience China.
From the expansive upper Sun Deck, with Chinese music ringing in the background, passengers are mesmerized as steep-sided gorges, rugged mountains and deep, rocky canyons that artists have been painting for eons of years ease into view.
Ahead, the passage is so narrow it doesn't look as if our boat can squeeze through. It's hard to believe the cloud-draped canyons, textured by thousands of years of wind and rain will soon be under water.
Two men and a small pig are walking on a narrow mountain ledge near a temple while a large ferry boat chugs by, appearing like a floating Christmas tree. A man is contentedly sleeping in a cave in the middle of a thick slab of rock, inches from the river, while above him on a rocky outcropping, aloof, white mountain goats snootily stare at a fisherman who is futilely rowing upstream and seems to be lost in time.
The gleaming ship, one of three identical vessels crafted in Germany with Western standards in mind, opened the new era of Yangtze River cruising in May, 1994 when Regal China Cruises, a joint United States/China enterprise began operation.
The 424-foot vessels, longest on the Yangtze, each hold 258 passengers and include modern decor, air-conditioning, outside views, private bathrooms with shower, television, refrigerator and 24-hour service.
In the dining rooms, Asians are enjoying pasta with forks and spoons while North Americans, with a showy flair, fumble with chop sticks and lotus root.
The innocence of the gracious Chinese crew, who offer unobtrusive service and bend over backwards to please is infectious. In the evening, a waitress performs a dance with fans from her mountain village, an officer from the bridge plays antique musical instruments and a dining room hostess doubles as a spectacular opera singer. On board entertainment also includes folk dancing, painting exhibits, seminars on China and Tai-chi exercises.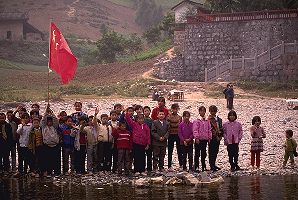 We pass through Qutang and Wu Gorges "oohing and aahing" at the beauty, then moor at Badong, a river town on the south shore, for a shore excursion two hours into the back country and a three hour rafting trip on the Shennong Stream.
Smiling vendors line the steps from the boat to the road selling oranges, roasted nuts and bits and pieces of army uniforms, while silk fans and antique coins are displayed on an old pool table as free enterprise makes its move.
The drive is through a rich rice-producing valley, past rural villages to Xiqouwan where we board crude, narrow, handcrafted sampan boats, manned by wiry, muscled men wearing fiber sandals and speaking a dialect not understood elsewhere.
Pushed along by bamboo poles, we drift down the crystal-clear stream through steep, narrow gorges, past sheer cliffs swarming with swallows and hanging gardens and see a cave hundreds of feet above the stream with seven floors, each holding a coffin. How the fete was accomplished remains a mystery.
Suddenly, around a bend, five men are pulling a boat upstream, chanting in unison, heads bent low. The seven-hour, gut-wrenching job completes the sampan's round trip.
Other shore excursions include Zigui, home of the annual Dragon Boat Festival and Jingsha, a newly formed city based on the former iingzhou and Shashi cities.
We pass through the third gorge and see houses on stilts, crops growing wherever there is space for seeds, and huge fingers of stone stretching along the mountain range dotted with hanging gardens and temples.
Four water buffalo are standing on the open deck of a large leaky sampan while workers build the dam on either side of the river. The dam will raise the water level more than 600 feet and create a 370-mile lake covering the Shennong Stream and river life.
We enjoy the Captain's Farewell Dinner and say goodby to a marvelous river journey, then fly from busy Wuhan to Hong Kong and the Kowloon Shangri-La hotel - a world removed from mainland China where ancient customs are nobly trying to ignore the 20th century.
WHEN YOU GO
InterPacific Tours International and Northwest Airlines offer extensive Regal Cruise Tour itineraries with a BestBuy Series and early bird savings. Regal Cruise prices vary depending on accommodations and land excursions. Cruises range from three to 11-day sailings up and down the full length of the Yangtze.
Spring and early autumn are the best times to visit. Summer is hot and dry. Low season prices in December, January, July, August and November are discounted. Contact Regal Cruises at (800) 808-3388; IPI at (800) 221-3594; Shangri-La Hotels, (800) 942-5050; Northwest Airlines, (800) 447-4747.

Additional Information: - Yangtze River Cruise

---


Copyright ASSIST Information Services