Click here for www.PriceLine.com
---
You're Reading TravelASSIST MAGAZINE

---
DISNEY INSTITUTE
A NEW CONCEPT IN VACATION RESORTS
By Larry Benedict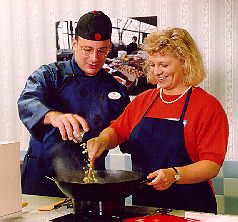 Not long ago to "learning" and "vacation" would never be mentioned in the same sentence. They were concepts at the opposite end of the activity spectrum. Kids couldn't wait until school was out to go on vacation.

For Disney to build an institute that equates the two ideas must have taken considerable courage, but their instincts were correct. After just two months in operation the Disney Institute is going strong, attracting vacationers from around the world to it's learning programs.

Located at the Walt Disney Resort in Orlando Florida and offering deluxe accommodations, the Disney Institute provides highly personalized experiences for adults and families with older children.

"We live in an age where discovering new things is a lifetime priority," said Michael D. Eisner, chairman and chief executive officer. "The Disney Institute will be a resort with a creatively charged atmosphere, where you can engage your body, excite your mind and expand your horizons. Guests can take part in activities that range from animating a cartoon, to creating a topiary, to climbing a rock wall," said Eisner.

The Disney program offers more than eighty programs in nine different program tracks: entertainment arts, sports and fitness, lifestyles, story arts, culinary arts, design arts, environment, youth, and performing arts.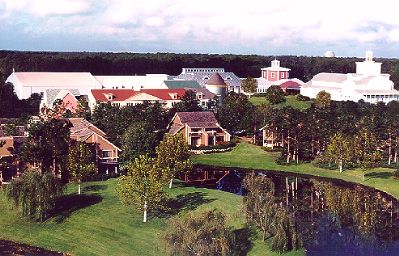 Of special interest are the Artists in Residence Program and the Guest Speaker Forums. These are among the cornerstones of the Disney Institute. Guests and artists will mingle in a variety of program opportunities. You may choose from a list literally pages long of experts and luminaries who are expected to participate throughout the year including Elmer Bernstein, composer; Theodore Bikel, actor; Roger Ebert, movie critic and Randy Newman, singer/songwriter. In addition there are renowned experts in the fields of puppetry, animation, juggling, Shakespeare, and filmmaking.
If you're looking for a new creative outlet or you have an older child that that wants to investigate a possible career interest, the Disney Institute may have a program that will open new horizons for you.
For a complete catalog, use the Disney Institute contact number provided below.
Want to know more? The Disney Institute Guide describes all of the Disney programs -- and tells you everything you need to know about reserving a Disney Institute Vacation. Call your Travel Agent or the Institute at 1.800.496.6337.
Photos © Copyright 1995 The Walt Disney Company
---


Copyright ASSIST Information Services
---
Information From the offices of the DISNEY INSTITUE
THE DISNEY INSTITUTE OFFERS YOU A CHOICE OF MORE THAN 80 PROGRAMS EVERY WEEK: HANDS-ON EXPERIENCES IN A VARIETY OF EXCITING PROGRAM AREAS. HERE ARE JUST A FEW EXAMPLES

CREATE AN ANIMATED CHARACTER (ENTERTAINMENT ARTS) An animator has to know how a character acts before deciding how it will look. You'll help create a character for a Disney Institute animated film. By acting out movements and reactions, you'll decide your character's personality. Then learn how to put it on paper by choosing corresponding body features, like a scowl and bad posture for a villain. No drawing skills are necessary— just an active imagination!

CANOE EXERTOUR (SPORTS AND FITNESS) Canoeing on the Walt Disney World Resort rivers and canals offers benefits of cardiovascular circulation, muscular strength and endurance, while enjoying the local wildlife. The experience begins with a series of stretching exercises and a discussion of the techniques of canoeing and water safety. Discover the proper techniques to enter, disembark and store a canoe.

DESIGNING GARDENS (ENVIRONMENT) Explore the elements of landscape design used at the Walt Disney World Resort as you work alongside a Disney Institute horticulturist. Learn the techniques of soil analysis, bed preparation, plant selection and site design while creating an annual garden at the Disney Institute. Leave a lasting impression that enhances the Disney Institute community and return home with ideas for your own successful gardens.

WINE, WONDERS AND SONG (CULINARY ARTS) Immerse yourself in the world of wine, food and song. Explore food and wine pairings and experience the difference between a fabulous and a weak match. Chefs demonstrate the cooking of regional dishes and discuss the attributes of the wines that best accompany them. Walk away with recipes and an expanded wine knowledge for your next meal.

ANTIQUE TREASURE HUNTING (DESIGN ARTS) This program shows you how to recognize and collect quality antiques from unlikely places, as well as how to care for and preserve these treasures. Join in an antique treasure hunt where you become the antique detective. Discover antique repair and maintenance techniques, and explore what you can do at home to display and protect your heirlooms.

AS WALT WOULD TELL IT (STORY ARTS) Explore the art of storytelling from the Disney perspective. Survey the qualities of Disney cinematic narrative through screenings and discussions. Discover the distinctive features that help make Disney tales so memorable, and apply these principles as part of a story creation workshop.
---


Copyright ASSIST Information Services